California Governor requests more time to reduce prison overcrowding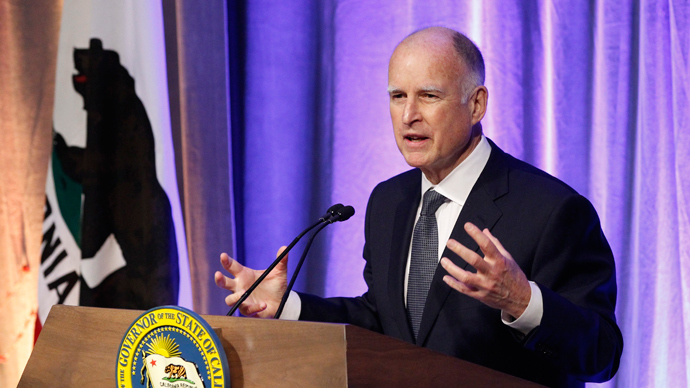 Governor Jerry Brown announced that while he plans to reduce California's prison overcrowding to 137.5 percent of capacity by adding thousands of beds and transferring inmates to private prisons, lawmakers need more time to comply with a federal ruling.
During a press conference with state legislators Monday, Brown said the December 31, 2013 deadline to drastically reduce the state prison population is too soon. A three-judge special panel ruled in 2009 that widespread overcrowding in California prisons is unconstitutional because it constitutes "cruel and unusual punishment."
The US Supreme Court upheld that ruling in 2011 and 2012 when the Department of Corrections had failed to act. A federal judge ordered the state to release thousands of low-level offenders before their sentences expired.
The governor also said on Monday that the state is seeking to expand rehabilitation programs to reduce the number of former inmates who return to prison. If the judges reject the time extension, California will act under Brown's original plan to send approximately 12,000 inmates from overcrowded state prisons to county jails and private prisons.
Prison facilities operated at 200 percent capacity for more than a decade but were at 143.8 percent, with 123,777 prisoners, as of September 4. The three-judge panel demanded the capacity be at 137 percent or less by the end of this year. The population has been reduced by 43,000 since 2006 and California has spent over $1 billion to improve conditions, the governor stated.
Brown also proposed sending inmates to empty jail cells in nearby states and building more prisons throughout California to prevent overcrowding. It would, he said, be the best way to protect the public while meeting the court order.  
Yet critics have said that Brown's plan wastes valuable taxpayer dollars on what would be a short-term solution. Brown said in an August press conference that the plan would immediately cost $315 million, totaling roughly $715 million over the next two years.
"As the population of California grows, it's only a matter of time until new prison cells overflow and the court demands mass release again," State Senator Darrell Steinberg said in a statement last month. Steinberg has since recommended extending the deadline by three years so the state could have time to expand mental health and drug rehabilitation programs.
The California prison guards union has also been receptive to a new plan, despite traditionally favoring "tough on crime" policies.  Mike Jimenez, head of the California Correctional Peace Officers Association (CCPOA), has worked to distance the union's image from previous administrations which campaigned for longer sentences to protect job security.
"Five years ago, I had a lock on things," he told Mother Jones in 2008. "Then I got questions with my own life. I have a 19-year-old son. He was having interventions with law enforcement. Drug related. And I watched how the criminal justice system treated him. It's assembly-line justice. I was totally taken aback by it."
Despite a contentious relationship with Brown during his first term as governor decades ago, the union donated millions to his 2010 gubernatorial campaign and supports investing in drug treatment as a replacement for prison time.
"You can put all the police officers you want on the street, but if we don't give those kids hope of a future, of a life, of an ability to make something of themselves, they don't care about life," Jimenez said. "Nobody's willing to forgive anymore. And we are willing to lock people up for unreasonable periods of time."
You can share this story on social media: