Federal judge grants California permission to force-feed inmates on hunger strike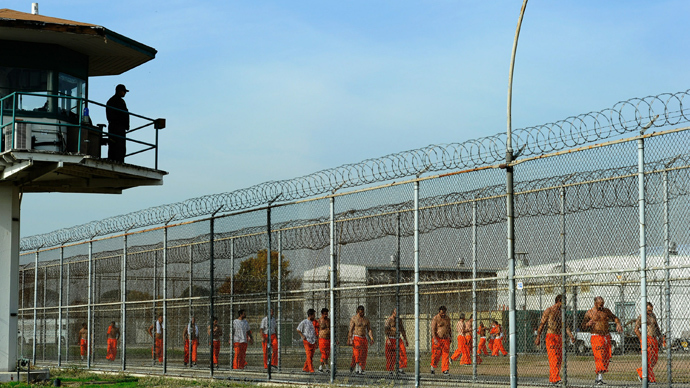 A US federal judge ruled that state and federal prison officials in California will be allowed to start force-feeding inmates participating in a nearly two-month-long hunger strike, if the prisoners appear to be approaching their death.
The California Department of Corrections, in conjunction with federal officials, requested the permission on Friday, saying they were concerned about the health of approximately 70 inmates who have refused meals since July 8. Roughly 130 inmates across California remain on hunger-strike, protesting the policy of isolating gang leaders and violent offenders in solitary confinement indefinitely.
Prison officials already have the power to compel inmates to eat, although that process requires a court order for each individual. Monday's court order, signed by US District Judge Thelton Henderson, allows the Department of Corrections to skip the case-by-case scenario and instead force-feed all inmates, including those who recently signed legally-binding "do not resuscitate" (DNR) requests.
The demonstration initially included 30,000 of the 133,000 prisoners in California. Under current prison policy, inmates are allowed to starve to death if they refuse their food and have signed DNR requests, AP reported.
The so-called "refeeding" process involves feeding prisoners intravenous fluids through their noses and into their stomachs. Judge Henderson instructed officials to act only if the chief medical executive at a facility determines a hunger striker is at risk of "near-term death or great bodily injury."
The exact number of inmates participating in the protests has decreased. While some have stopped protesting on their own, others were forced to quit after being hospitalized for symptoms including dehydration, cramping, vomiting, diarrhea, dizziness, and other maladies.
The hunger-strike, a rare moment of cooperation among notorious prison gang leaders, began as a measure against long-held detention policies, overcrowding, and poor conditions.
Despite repeated condemnations from an assortment of judges, the United Nations, and various human rights groups, solitary confinement has become an increasingly viable option for prisons that need to segregate individual prisoners. The American Civil Liberties Union asserted in a recent report that New York prison inmates may be sentenced to solitary confinement for "infractions as minor as having too many postage stamps or a messy cell."
The Scientific American conducted a 1957 study on volunteers who were subjected to isolation simulations. Upon completion, most participants performed poorly on simple tests examining arithmetic, word association, and pattern recognition capabilities, according to Mother Jones. Others experienced sudden emotional responses and vivid hallucinations.
"Nearly all of them reported that the most striking thing about the experience was that they were unable to think clearly about anything for any length of time and that their thought processes seemed to be affected in other ways," the results stated. "They were sick people."
Marie Levin, who is part of the coalition Prisoner Hunger Strike told Boston public radio show "Here and Now" that isolation cells are inhumane. Levin's brother has been locked up in a US prison since 1981.
"It's a concrete, windowless cell that's 8 by 12 [feet]," she said. "It only contains a sink, a toilet and a little stub that they sit on. There are no windows, so they're circulating air that comes in, but no fresh air. They can't look out to see sunlight."
Inmates' attorneys and prison officials have previously argued over whether California prisoners should be allowed to voluntarily begin a liquid-only diet.
"Patients have a right to refuse medical treatment. They also have a right to refuse food," Joyce Hayhoe, a spokeswoman for the federal receiver's office, told AP.
"If an inmate gets to the point where he can't tell us what his wishes are, for instance if he's found unresponsive in his cell, and we don't have a DNR, we're going to get nourishment into him. That's what doctors do. They're going to follow their medical ethics. We'd take any and all measures to sustain their life."
Both prison officials and attorneys representing the remaining demonstrators claim they are willing to compromise. Lawmakers say the effort is fueled by gang leaders seeking more power behind bars, while inmates' attorneys have repeatedly told the media they are seeking a compromise to benefit both parties.
"Being rational seems to have left this debate," Jeanne Woodford, former head of the California prison system under Governor Arnold Schwarzenegger, told the Los Angeles Times. "It's people who have dug their heels in on both sides."
You can share this story on social media: