Idaho's only black lawmaker gets a KKK invite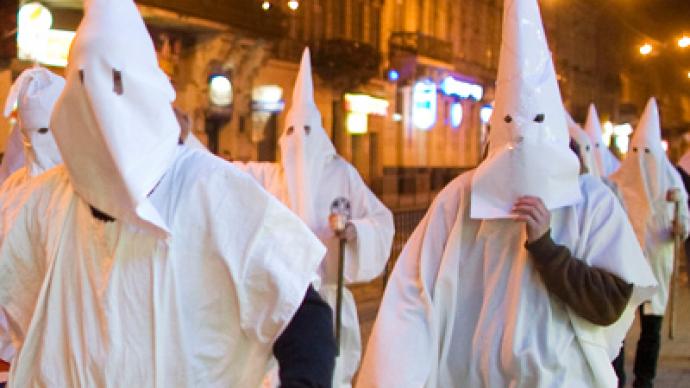 If you received an invitation to join the Ku Klux Klan recently, you weren't the only one. A lawmaker in Idaho found an application to join the ranks of America's favorite hate group last week, which has Rep. Cherie Buckner-Webb wondering 'Why me?'
Representative Buckner-Webb is especially interested in learning what made her such a sought after recruit since, if history is any indication, the KKK is usually opposed to accepting black women into their oh-so exclusive club.
"Check out communiqué from the KKK received this week in the mail," Rep. Buckner-Webb writes on her Facebook account over the weekend when captioning a photo she uploaded of her invite. "Newsletter, Application…Really?"
Should the congresswoman actually want to take them up on their offer, the criteria included in the Klan's official application would, sadly, exclude her from joining. Before forking over the $35 check for yearly dues, incoming recruits are asked to acknowledge a few factors, at least one of which doesn't apply for the lawmaker.
"I am a White Christian man or woman. I am not married to a nonwhite. I do not date non-whites nor do I have nonwhite dependents. I practice my belief in racial integrity. I believe in the ideals of Western Christian Civilization and profess my belief in Jesus Christ as the Son of God," the Klan asks incoming members to acknowledge.
The congresswoman notes that the invitation was addressed by hand, which could mean that the recruitment attempt was more than just a computer error. "Something a little unsettling," she says.
"Initially, I wondered what was someone's thought process in sending that to me. My first inclination was someone wants me to know the Klan is still around," she explains to the Idaho Statesman. "It conjured up a lot of things for me that weren't very comfortable — not fear, but sometimes we get to thinking things are settled," she says.
If it was a mistake, though, she says that it wouldn't be the first time she's encountered a goof from the robed boys in white.
"When I was a teenager, the KKK came to Nampa to 'induct' a friend of my mom's. There were not happy to learn he was a Black man. Became national news," she writes on Facebook. "Sounds like the group has some organizational gaps!"
Congresswoman Buckner-Webb adds that something good does come out of this, though. It will be a reminder "to remain vigilant."
She also adds that this isn't the only time she's had to recall the Klan's presence in the state she represents. When out of town, she tells the paper that she encounters a lot of people who put the KKK among the most noteworthy items the state has to offer.
"When they think of Idaho, it is not Sun Valley, or our rivers or our mountains. It is the Aryan Nations. That is still what they think about Idaho," she tells the Stateman. "I hear it all the time."