Day one of Manning trial focuses on intent of WikiLeaks source
The military trial of admitted WikiLeaks source Bradley Manning began Monday morning in Fort Meade, Maryland, more than three years after he was arrested in Iraq.
Read RT's live updates on the court-martial of Pfc. Bradley Manning.

Manning, a 25-year-old soldier who reached the rank of private first class in the United States Army, has been in pretrial custody since May 2010. He could spend the rest of his life in prison if a military judge convicts him at the end of the trial for providing support to al-Qaeda.
In a small courtroom outside of Baltimore early Monday, Army prosecutors painted a picture of Pfc. Manning that portrayed him as a traitor that released files to WikiLeaks with intent to cause harm to the US. Manning's defense counsel David Coombs insisted otherwise, however, and rejected the government's argument that the soldier made contact with the anti-secrecy website in order to bring harm to the country he had taken an oath to protect.
Manning previously pleaded guilty to a number of lesser charges lobbed by the US government, but his counsel's biggest challenge will occur during the court-martial, when they are faced with defending the private against counts of aiding the enemy and espionage.
Day one of the court-martial got underway around 10am Monday with Army prosecutors presenting a slideshow that paved the way for how they intend to prove that Pfc. Manning went to WikiLeaks will ill intentions. By presenting an outline of the evidence they plan to present as the trial continues trough the summer, prosecutors said they will show that Manning knowingly aided the enemy.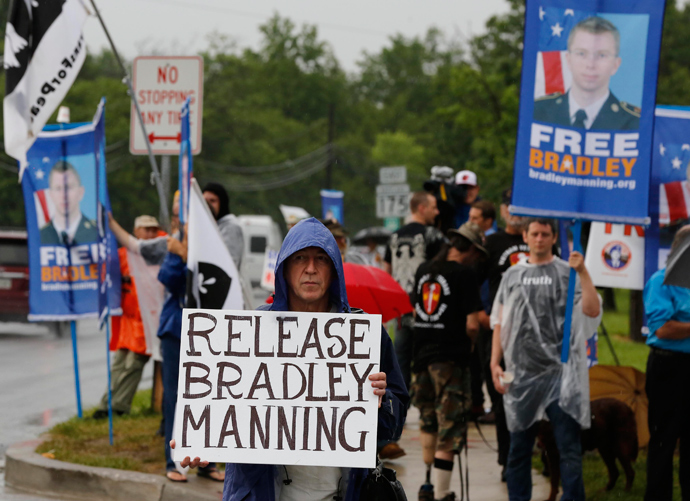 "This is not a case about an accidental spill of classified information" or "a case about a few documents left in a barracks," prosecutors said.
"This, your honor, this is a case about a soldier who systemically harvested hundreds of thousands of documents from classified databases, and literally dumped that information onto the Internet in the hands of the enemy," putting the lives of his fellow soldiers at risk.
"This is a case about what happens when arrogance meets access to sensitive information."
Prosecutors also argued that Manning conspired with WikiLeaks founder Julian Assange, citing chat logs alleged to have occurred between the two in which Manning discussed classified intelligence that was publically requested and discussed by the WikiLeaks Twitter feed.
"We would like a list of as many .mil email addresses as possible. Please contact editor@wikileaks.org," one tweet read in part. Manning is accused of supplying WikiLeaks with a list containing the personal information of 74,000 troops shortly thereafter, and the Army may be able to prove that the soldier took a cue from Assange, likely setting the stage for an eventual case against Assange that could finally pressure his extradition to the US.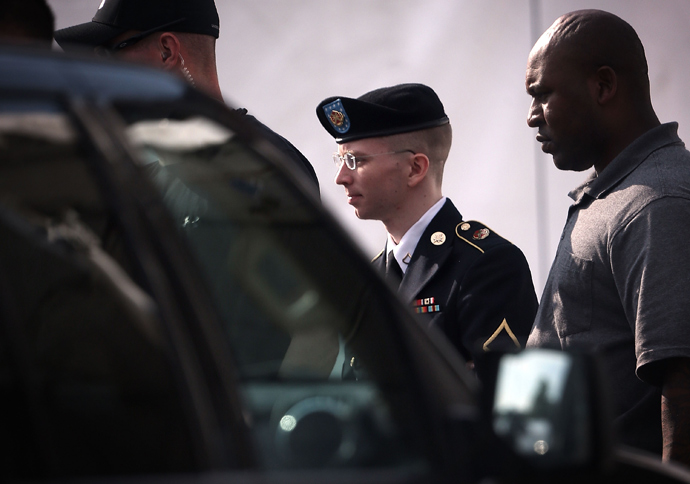 But earlier this year, Manning testified during pretrial hearings that he was never sure who he communicated with during his few chats with a WikiLeaks staffer the government alleges to be Assange. Manning admitted to sending hundreds of thousands of files to WikiLeaks during a February 2013 statement, and on Monday his attorney said he had a very good reason for that.
Speaking of one file Manning admitted to leaking — a video of a US Apache chopper opening fire and killing civilians — Coombs said Manning sent it to WikiLeaks in hopes of bringing change to a war in Iraq being fought in a way very much unlike it was being reported.
"When he decided to release this information, he believed that this information showed how we value human life," Coombs said. "He was troubled. And he believed that the American public saw it they too would be troubled. And maybe things would be changed," he said.
Manning also has been attributed with leaking an entire trove of sensitive files to the website, including State Department diplomatic cables, Guantanamo Bay detainee assessment files and other materials. Before he concluded his brief opening statement, Coombs offered insight as to why his client did as charged.

"He released these documents because he was hoping to make the world a better place," Coombs said. "He was 22 years old. He was young. He was a little naïve in thinking the information he selected could actually make a difference, but it was good intentions."
"He had absolutely no actual knowledge that the enemy would get access to it," Coombs said.
The prosecution called a handful of witnesses on Monday, including the Army officials who began the investigation into Pfc. Manning in May 2010 and his roommate in Iraq. The trial will enter day two on Tuesday and is expected to run through the summer.

You can share this story on social media: