Worldwide protests ahead of Bradley Manning's Monday trial
Demonstrations are taking place all over the world in support of Bradley Manning, the US army private Whistleblower who leaked intelligence to WikiLeaks.
Manning's trail will start Monday at the Fort Meade military base in Baltimore, some three years after having been accused of the largest leak of classified materials in the history of the United States. Among other things, he has been charged with 'aiding the enemy' – which could potentially land him in jail with a life sentence without parole.
Already the stenographers who were meant to create daily transcripts of the trial have been denied press passes and will not now be at the trial. 
The number of protesters at Fort Meade was over 3000 by Saturday with many of them shouting 'We are all Bradley Manning!' And globally, people are holding events in over 24 cities on four continents over the course of the weekend. Aside from American cities, people as far as Toronto, Berlin, Paris and even South Korea's Seoul have joined in a chorus of support for Manning.
A number of high profile people have come out in support of Manning including Daniel Ellsberg, a former Department of Defense employee who leaked Pentagon papers during the Vietnam War. Ellsberg has said that Manning's trail is one of the "defining issues of the 21st century" and believes that the "transparency and accountability of government are at stake".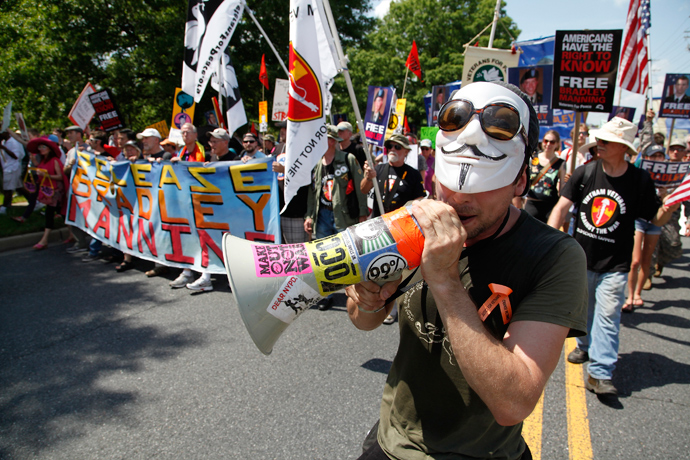 Manning, 25, was arrested in Iraq in May 2010, which followed an inquiry into the hundreds of thousands of State Department cables he had by then leaked. He had already entered a plea of 'guilty' for the charge of transmitting digital information, but that is a small fraction of the 21 counts the prosecutors are seeking to convict him on.
To put Manning away for life, the court would have to find evidence that he was associating with Al Qaeda and its partners in the region by transferring information to them directly.
RT spoke to human rights activist and writer Craig Murray, who drew attention to the way the politicians and media in the US were handling Manning's case, which, in Murray's opinion proves that the private's actions had not had nearly the consequences he is being accused of.
"Nobody has been able to point to a single instance of anybody being harmed as a result of his disclosures. Nothing he has done in any away approaches the level of criminality of American soldiers who were deliberately shooting and killing soldiers in Iraq," says Murray in disbelief, asking why they are not the ones on trial. And that is aside the point from what Manning has had to go through while in custody, before the trial even commenced.
The world will wait for up to three months before the final verdict is announced and we find out whether Bradley Manning will be put away for life. 
@savebradley @franonirc @opmanning @freebradmpls Protest #OpManning Anons Supporting Bradley Manning ! Paris - France twitter.com/Stmanfr/status…

— ★ STMAN ★ (@Stmanfr) June 1, 2013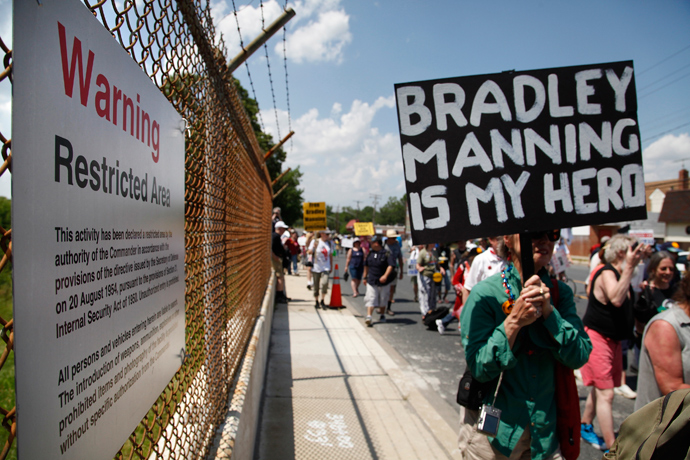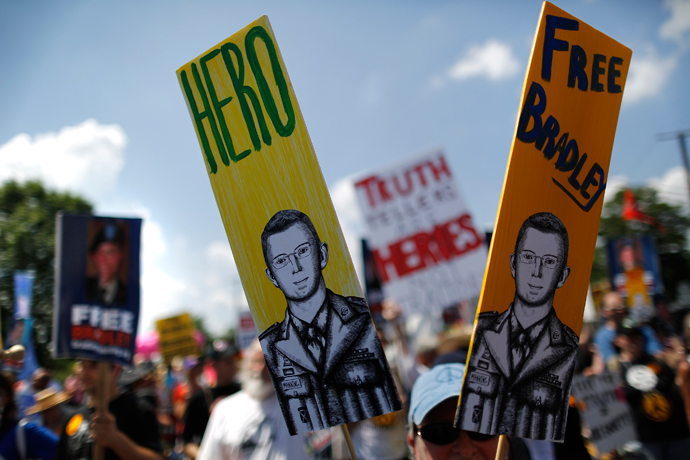 You can share this story on social media: