Bloomberg wants Hillary Clinton to succeed him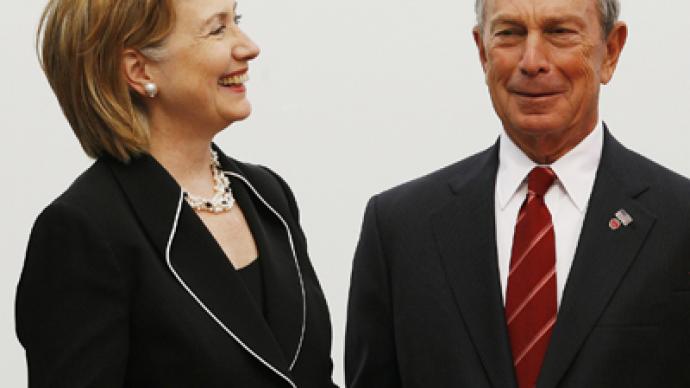 Rather than enter the 2016 presidential race, New York City Mayor Michael Bloomberg encouraged Secretary of State Hillary Clinton to instead run for his position in 2013.
The mayor has long been searching for a suitable successor, and he's now looking to the Obama administration to find one. Bloomberg, who is politically independent, has held his position since he began his first term in 2002 and last year endorsed New York City Council Speaker Christine Quinn to succeed him. Quinn has been doing well in opinion polls and has remained a close ally during Bloomberg's mayoralty.But now, the mayor and founder of financial data-services firm Bloomberg L.P. has a different woman in mind. The New York Times reports that Bloomberg personally called Clinton to ask her to run for the 2013 mayor's race, thereby "trading international diplomacy for municipal management on the grandest scale."Quinn claims she knows nothing about Bloomberg's change of heart. But those who confirmed the phone call with the Times said Bloomberg believes Clinton to be a perfect fit for his position. The mayor has also expressed his admiration for Clinton for dedicating herself to working under a president that she once ran against, and once invited the Secretary of State to drop the crystal ball in Times Square on New Year's Eve.Neither Bloomberg nor Clinton have publicly commented on the idea of the Secretary of State running for mayor, but those who were briefed on the call say Clinton is not interested.The Times suggests that the mayor is unsettled about the future and desperate to find a suitable successor."He is looking for somebody he can feel comfortable handing the reins over to," said Hank Sheinkopf, a New York City political operative who worked on the mayor's last campaign.But even if Clinton did agree to run for the position, there would be substantial obstacles for her to take on. Clinton is not a resident of New York City, which is a requirement for an incoming mayor. Unless she bought a house in the city, she could not become the city's political representative.Democratic operatives and fund-raisers told the Times that it seems very unlikely that Clinton would ever seek office in New York City, but Bloomberg believes his position should be given to someone who is perhaps overqualified."If in fact he did say that to Hillary Clinton, it's only because he holds his position and therefore regards it as a step up from being president," said Robert Zimmerman of the Democratic National Committee.Bloomberg created his own super PAC in October, which he used to donate money to political candidates who agreed with his stances on gun control, same-sex marriage and overhauling public schools. The group, called the Independence USA PAC, will likely also have an effect on the 2013 race for New York City mayor.
You can share this story on social media: