Bloomberg anchor displays bitcoin on TV, immediately gets robbed by viewer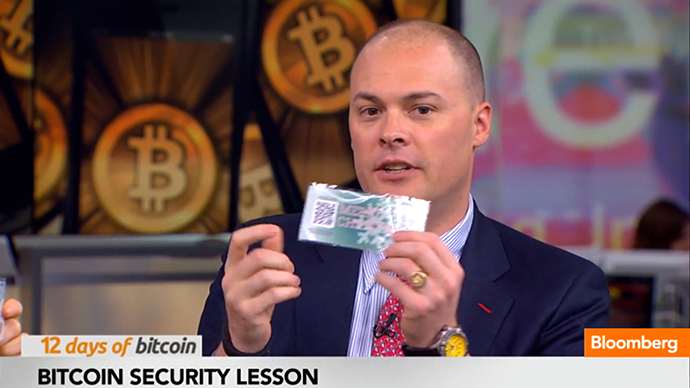 Bloomberg TV provided viewers with an important lesson in digital currency when one of its anchors had a gift card stolen while showing it during a live broadcast.
On Friday, December 20, Matt Miller surprised his two fellow anchors – Adam Johnson and Trish Regan – with bitcoin gift certificates during his "12 Days of Bitcoin" segment. Johnson then flashed his certificate on the screen for roughly 10 seconds - more than enough time for a Reddit user to scan the digital QR code with his phone and take the gift for himself.
The user, who goes by the name "milywaymasta," took to Reddit to explain what happened.
"The guy that is hosting the series gave bitcoin gift certificates to the other two hosts. One of them opens up the certificate to reveal QR code of the private key," he wrote. "They then proceeded to show a closeup of the QR code in glorious HD for about 10 seconds. Hilarious."
"I took it, it was only $20 worth. It was exhilarating nevertheless. I'll send it back once Matt gives me a new address since someone else can sweep the old one. A segment on bitcoin security and the importance of NOT showing the private key and also BIP0038 (Password Encrypted Private Keys) Wallets will be more than enough compensation."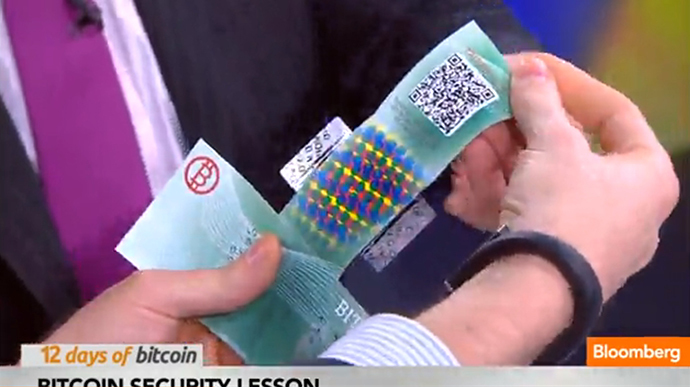 Although milywaymasta offered to return the cash, Miller followed up with the user on Reddit, stating that it would not be necessary.
"So freaking classic but also a GREAT lesson in bitcoin security!" he wrote. "You can keep the $20 - well earned."
Despite the lighthearted nature of this situation, theft has become a nagging problem in the world of bitcoin. Earlier this year, it was reported that someone stole up to $100 million in the digital currency from "Sheep Marketplace," an illegal online drug sales website. Dozens of other bitcoin thefts have been reported as well.
Bitcoin also faces an uphill battle against countries hesitant to accept the currency. Denmark recently warned that converting money into bitcoin left individuals risking theft, as well as the inability to reconvert it into physical cash. China also recently banned bitcoin deposits over worries about its connections with money laundering.
You can share this story on social media: