Guns for Black Friday: New American tradition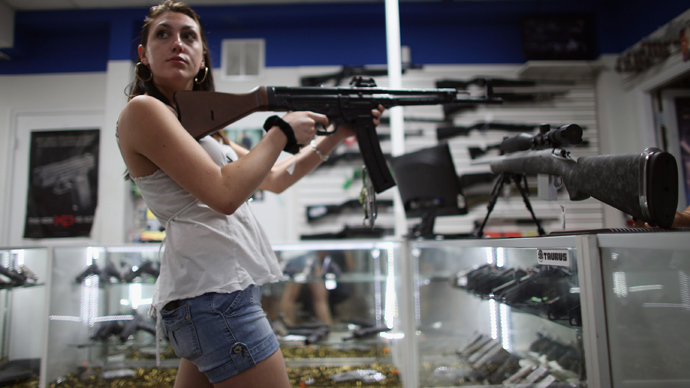 Black Friday is typically known for its deals on hot holiday gifts such as clothes and consumer technology, but the last two years have shown another item gaining popularity: guns.
According to the Huffington Post, gun sales have declined since the early months of 2013, but gunmakers are hoping Black Friday represents a significant turnaround, and numerous retailers are offering firearms at a discounted rate.
Over the last two years, the day after Thanksgiving has seen a surge in gun sales. In 2012, Black Friday resulted in such a large wave of requests for background checks – a record 154,873, to be exact – that call centers at the National Instant Criminal Background Check System suffered from overload and outages. That was a 20 percent increase over the previous record-setting Black Friday in 2011, which saw calls for 129,166 background checks.
What's more, since the FBI doesn't track individual gun purchases, the ability to buy multiple firearms at once means there could be even more weapons sold than the number of background checks indicate. As of October 31, the FBI has recorded requests for more than 17 million background checks this year.
So what explains the surge in gun sales? Last year, the reelection of President Barack Obama set off worries that stricter gun regulations were on the way, sparking a wave of sales during the Thanksgiving period. Meanwhile, the specter of gun control legislation following the massacre at Sandy Hook Elementary School in Newtown, Connecticut, in December ensured the sale of firearms remained high entering 2013.
Since then, however, sales have dropped and gunmakers are looking to the holidays to boost their fortunes. Many stores, including Walmart, are offering discounts on weapons for Black Friday, with Cabela's even giving away a rifle as a potential prize to its first 600 customers.
Although retailers said that first-time buyers and women made up a significant portion of gun buyers last year, a study released by the National Opinion Research Center in March showed that gun ownership per household in the United States has fallen to a record low of 34 percent. During the 1970s, about 50 percent of American households owned guns.
Despite the drop, however, gun sales are still strong. The founder of Moms Demand Action for Gun Sense in America, Shannon Watts, told the Huffington Post that whoever does own firearms in the US now likely has several weapons.
"The reality is that in America, fewer people are owning more guns," she said. "They have to keep marketing to [gun owners] to buy more weapons."
You can share this story on social media: