Black children still face most barriers in America - study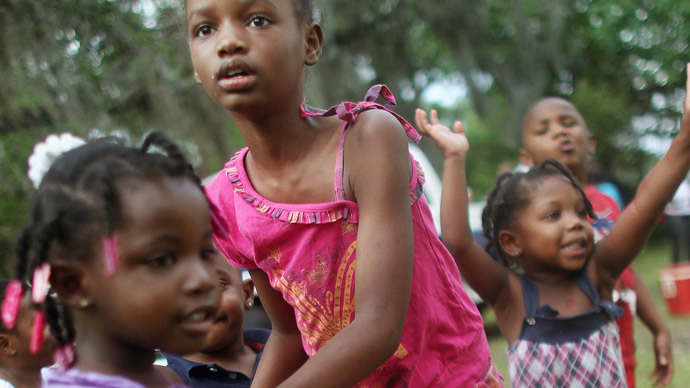 Compared to other racial groups in the United States, black children face the most barriers towards success – a gap that's evident from birth and gets wider over time, a new study says.
Released on Tuesday, the Annie E. Case Foundation report highlights the obstacles facing African Americans, as well as other people of color, including Hispanics and American Indians, as they grow up in the United States.
The study calculated a group's success by evaluating data based on 12 different indicators – reading and math proficiency, income levels, graduation rates, and more – and scoring each one on a scale of one to 1,000. According to the Associated Press, the report found that white and Asian Americans experienced significant advantages over people of color in every region of America.
Specifically, Asian children topped the list with a score of 776, with white Americans not far behind at 704. Scores for American Indians and African Americans were noticeably lower, at 387 and 345, respectively, while Latino children had a composite score of 404.
"We found that the gaps sort of start out relatively small and get bigger over time," Laura Speer, an associate director at the Casey Foundation, said to the Huffington Post. "Look at the early childhood measures: The gaps between African-Americans, Latinos, whites are relatively small. But in the early childhood years, even a small gap can have a big impact in the long run."
While the overall composite scores held true across the entire country, some groups did fare better in certain states. As noted by the Post, American Indian children experienced more success in states like California, Michigan, and Texas, but did not fare well in Montana and North Dakota. African Americans, meanwhile, faced consistently tough obstacles across the country, with the exception of Utah and New Hampshire – an alarming stat the report called "a national crisis."
Noting that Americans' future will be largely multicultural thanks to rising minority populations, the report underscored the importance of ensuring children of all backgrounds have the chance to prosper.
"The kids of color in our country are absolutely critical to the future success of the United States," Speer told the Post. "They are going to be the majority of our work force and we can't afford to lose the talent they have and could have in the future behind. We need them to be successful."
Casey Foundation President Patrick McCarthy told the AP, meanwhile, that the results are "a call to action," and the report suggested future studies identify the specific problems and suggest solutions.
"The price of letting any group fall behind, already unacceptably high, will get higher," the report said. "If America is to remain prosperous for generations to come, all children must have a fair chance to succeed."
You can share this story on social media: