Bitcoin for bud: Weed vending machines in Colorado will accept cryptocurrency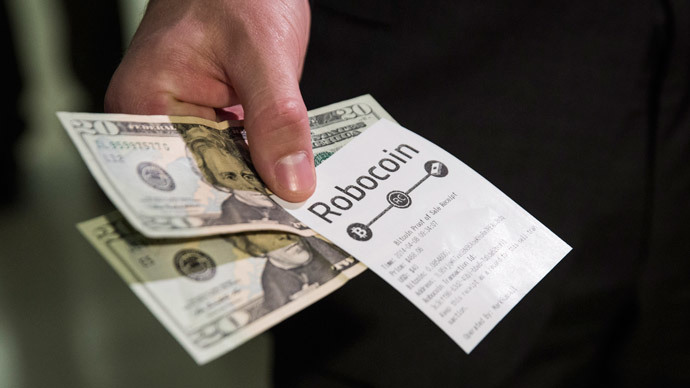 Bitcoin might still be a confusing concept for many people, but in the state of Colorado it is expected to actually soon make something a whole lot easier: buying weed.
As RT reported earlier this week, a first-of-its-kind marijuana vending machine was recently unveiled in Colorado, where since January 1 adults have been able to legally purchase pot for recreational purposes. Soon, however, cash-weary consumers will be able to conduct transactions not just with dollar bills, but with the ever-emerging digital cryptocurrency.
The Herbal Elements dispensary in Eagle-Vail, CO received a marijuana vending machine named ZaZZ on Thursday, and soon they hope customers who would rather not wait to be personally served by the store's bud-tenders will put it to use when they want to purchase legal weed. And while consumers will be free to pay for their goods with greenback dollar bills like with traditional vending machines that deal out soda and snacks, the ZaZZ will also allow transactions to be processed with Bitcoin as a form of payment.
It's here! #zazzzpic.twitter.com/6wB5O2AbmH

— Herbal Elements (@HerbalColorado) April 16, 2014
"It's quick, it's efficient, it's trackable," Stephen Shearin of ZaZZ makers American Green told CoinDesk this week.
Because the United States government still considers marijuana to be illegal, dispensaries operating in Colorado have been unable to accept federally-backed credit cards.
"Providing a payment facility that has a super-low cost to it, like Bitcoin, is an effective way to provide these guys – dispensaries and dispensary owners – with a means of doing their business that is more efficient than other facilities that charge a higher fee," Shearin explained.
As Bitcoin continues to rise in popularity, an increasing number of retailers of all walks of life have begun offering consumers the ability to pay with cryptocurrency. What used to be a way to do business over the web exclusively has since spread to the real world, and coffee shops, restaurants and stores of all sorts have been adding the ability for Bitcoin to be used for purchases.
Using Bitcoin to buy bud from a ZaZZ, Shearin said, isn't much more difficult than any other situation.
"It's exactly like [using your] bitcoin wallet to pay anywhere else," he told CoinDesk.
The difference, of course, is that American Green has implemented a number of high-tech security standards to ensure that buying weed out of vending machines isn't something that just anybody can do. Even if Colorado is just one of two places in the entire United States where selling marijuana to adults is legal, unmanned retail machines could still be exploited and abused if certain steps aren't put in place.
To ensure the ZaZZ operates legally, it relies on a number of steps to verify the identity of potentially customers.
"They would swipe their driver's license at which point multiple cameras would allow us to use some advanced biometrics to make absolutely certain that the person who swiped the card is the owner of that card," Shearin added to the IB Times
And if that seems like too much of a hassle, the American Green COO told The Cannabist website that he envisions the ZaZZ actually making matters easier for many.
"First, think of automated checkouts at the market," he said. "Not for everyone, but for those who use it, they love it. Next consider a regular or perhaps a somewhat shy customer who is capable of self-service. Finally (for this list but certainly not all that we believe can be achieved) consider proprietary products that can be introduced without the dispensary having to change its displays — or manufacturers being able to put products in and see sales for themandthe dispensary without being part of the normal PO system."
"This isn't something that's in the shadows that you need to hide from everybody. We should erase the stigma, embrace it wholeheartedly and talk about something that's fun and exciting for people," he added to reporters at Colorado's MyNorthwest.com website this week.
"I know in a lot of medicinal places, the average time for a consultation and then purchase is 15 minutes, so now I'm going to sit there 15 minutes, but I know exactly what I want," he said.
But with Bitcoin involved, some customers soon won't even have to worry about feeding 20-dollar bills into Shearin's machines. Instead they'll only have to scan their license and smile for the camera after supplying the machine with their e-wallet information.
Dispensary owners like Greg Honan of Herbal Elements are already reveling in excitement. Honan's shop received their first machine on Wednesday, and said in a statement that his shop will "eliminate the middle man" by relying on ZaZZ for some sales, and not shopkeepers.
"It'll go straight from the budtender right into our machine," Honan added to WWMT News. "There's no room for theft by patients, employees ... there's no way to lose track of the inventory."
On Thursday this week, Herbal Elements tweeted that the machine is in his shops, but won't be stocked until the authorities give him the final go-ahead.
"There has not been any marijuana in the [Zazz] machine [and] will not be any marijuana in the machine until all authorities ok its proposed use," Herbal Elements tweeted earlier in the week.
You can share this story on social media: