Colorado presents marijuana vending machine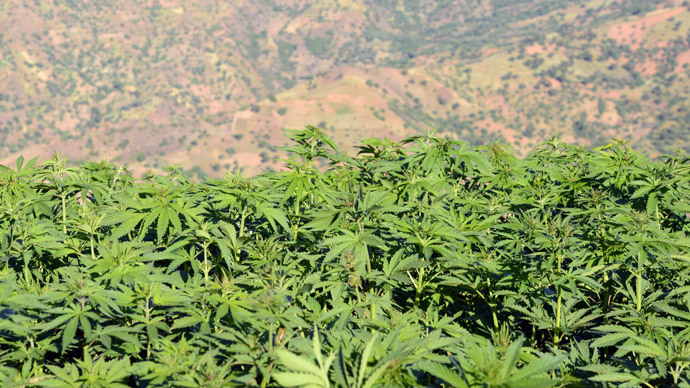 Marijuana legalization in Colorado has already sparked innovation in the state – pot tours, anyone? – and now one company has even created a vending machine capable of dispensing the drug to legally verified users.
Designed and developed by American Green, the new ZaZZZ vending machine made its debut in Colorado over the weekend, and it's expected to start dispensing snacks such as pot brownies in addition to marijuana in its original form.
Descried as "an automated, age-verifying, climate-controlled marijuana dispensing machine," the machine will first be used at the Herbal Elements dispensary in Eagle Veil, where owner Greg Honan thinks it will make the business even more efficient
"We're looking forward to using the ZAZZZ machine to easily track all this inventory … we're gonna eliminate the middle man," he said to local news outlet KDVR. "It'll go straight from the budtender right into our machine. There's no room for theft by patients, employees … there's no way to lose track of the inventory."
While such vending machines are technically used at medical marijuana dispensaries in California, their introduction in Colorado will mark the first time that customers will have direct access to a vending machine. Usually, they are located behind the counter and away from customers.
Those worried about under-age teenagers taking advantage of the machines, however, don't have anything to fear, according to Stephen Shearin, the COO of Tranzbyte, the parent company of American Green. Speaking with Denver Post's The Cannabist, he said the machine "uses the same technology that checks age/ID fraud under the Control Meth Act. Your identity is confirmed against active biometrics."
Once a customer swipes their driver's license, the vending machine uses multiple cameras to ensure the attributes of the individual standing before it match up accurately with what's described on the ID.
Currently, the machine does not check for medical marijuana licenses, but Shearin said the company is "prepared to integrate" such features in the future, adding that since "people will be authorized in medical facilities before entry … internal checks will only bolster security and accounting for state and dispensary alike."
As these direct-to-customer vending machines make their way into Colorado, Shearin also stated that, for now, he doesn't see ZAZZZ or its next few models being used in public spaces, nor will it be used to dispense marijuana for recreational use.
"As time and laws evolve, who knows where it will be," Shearin told local NBC affiliate 9News. "At that point, we'll have higher security. But, at this point, it's not something we have to address because versions one, two will never be in the town square."