Billionaire Madoff tied to intelligence agencies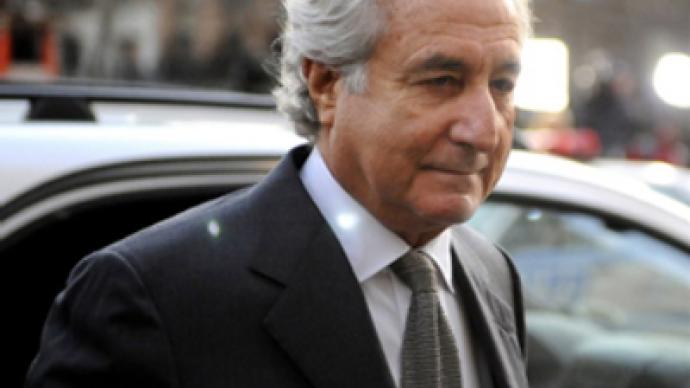 No conspiracy charge by feds against Madoff is covering up links to domestic and foreign intelligence.
The failure of federal prosecutors to bring conspiracy charges against Bernard Madoff, the mega-billion dollar Ponzi scammer who pleaded guilty March 12 to eleven counts of fraud and other crimes in U.S. District Court in Manhattan, is providing cover to those who pulled the strings on Madoff's illegal operation.
WMR spoke to a former close aide to Madoff who related how he handled a number of transactions personally for Madoff. The source said that Madoff was running a special type of "pump and dump" scheme. The source said Madoff would "pump money out of the system and dump it out to another place." When asked what that "other place" was, the source replied, "Israel."
The source believes that no conspiracy charges were brought by the federal government against Madoff because it is the government and not necessarily Madoff that is trying to protect his "network and superiors."
Madoff's Chief Financial Officer was Frank DiPasquale, who is being represented by Marc Mukasey of Bracewell Giuliani. Mukasey's father is former Bush Attorney General Michael Mukasey. The U.S. judge handling the Madoff case, Denny Chin, is, according to informed legal sources in Manhattan, over his head in corruption.
WMR has learned how some of Madoff's international operations were conducted. At 3:30 pm every day Madoff Investment Securities employees would call banks in Grand Cayman, Cayman Islands, and tell them to "roll the accounts." That was insider language for "lend the money."
In some cases, money was moved to the Belize Bank, which was described by a Madoff insider as a "back side" for secretive banking operations in the Cayman Islands and Switzerland.
Madoff would also dispatch messengers to 55 Water Street in New York's financial district to pick up securities bearer bonds that could fit into an "Army duffle bag." Those types of transactions dramatically decreased for Madoff after 9/11.
The weekend following the Fourth of July, Madoff would sponsor a three-day bash for Madoff employees and "special guests" at Montauk on the eastern tip of Long Island. One of Madoff's special guests was Norman F. Levy, a billionaire who Madoff considered as a father figure. After his death, Levy's old firm continued to maintain an office at 885 Third Avenue in Manhattan, the same location as Madoff's firm. A Madoff insider speculated that Madoff may have been using Levy's company as a conduit for his business activities.
The annual Montauk conclave featured a dinner for Madoff's "special guests" on the Saturday evening at the Montauk Yacht Club. Madoff's "special guests" were kept segregated from the regular Madoff employees. The special guests were often found in a special place called the "money fund room."
In addition to Madoff's immediate family members, including his brother Peter, he also tended to surround himself with key individuals who were veteran officers of the U.S. military.
Madoff's London operation was handled out of a one-room small office located at 43 Newell Street. Every time Madoff visited the office, the London staff was extremely nervous. According to a Madoff insider, the Madoff London office was nothing more than a "front" operation. There may have also been some synergy between Madoff's London operations and American International Group (AIG), which reportedly is missing $500 billion from a similar small office pass-through operation in London.
Madoff's number one foreign destination was not England but France, where he maintained a luxurious estate in Provence.
Madoff routinely got his cash from the Bank of New York (BONY) and Chase. One favorite Bernie Madoff term was an "inch of fifties," which equates to $5,000.
The day before Madoff was arrested, he sent a "package" to Citibank's private banking facility at 850 Lexington Avenue. Usually when Madoff Securities sent out a "package," a set of documents in an 8 1/2 x 11 inch envelope authorizing electronic funds transfers, there was always a signed receipt from Citibank. One exception was "packages" personally sent by Madoff to Citibank. On December 10, Madoff sent a "package" to Citibank with no receipt from the private banking service. That evening Madoff attended the company's annual Christmas party, which had always been held on December 17. Madoff was reportedly not acting normal and his wife Ruth was trying to play the gregarious role normally handled by Madoff in previous parties. WMR's inside source believes that Madoff knew then that he was facing arrest the next day.
WMR has also learned that Madoff Securities was for sale in the late 1990s. One of the names mentioned in the potential sale is Ezra Merkin, also under investigation by the federal government's probe of Wall Street. WMR has learned that Madoff almost sold his firm for $1 billion. The potential purchaser, who was not identified, flipped a coin between buying Madoff or Charles Schwab. The purchaser opted for a potential purchase of Schwab.
Madoff often had a tense relationship with his family associates. In the mid-1990s, WMR was told of a particularly nasty exchange between Bernie and his brother Peter. Bernie allegedly told his brother, "When you see your name on the door, you can tell me what to do. Until then you have one percent of the stock so you can keep your fucking mouth shut."
When Peter's son Roger died of cancer at the age of 30, a cancer fund was established in Roger's name. Our source said that the fund for Bernie Madoff's late nephew was also defrauded. The source said, "Bernie would never do that to his nephew," adding, "Bernie was operating a "pump and dump" scheme for a domestic and foreign intelligence agency." Asked to name the domestic agency, the source replied, "CIA." Asked about the foreign agency, the source claimed it was "the Russia-Israeli mob operating with Mossad."

It is also reported that a number of key Madoff employees died suddenly from various causes, including what was described as "fast-acting cancer." The cancer victims included Madoff's 55-year old in-house lawyer and his "mid-fifties" computer software engineer. The woman who created Madoff's over-the-counter stock trading system was struck and killed by a bus while walking to Bloomingdale's in Manhattan.
One long-time Madoff employee told WMR that Bernie Madoff's father, Ralph Madoff, who worked as a New York plumber, once told the employee, "Never, never invest in Wall Street cause it's run by crooks and SOBs." Ralph Madoff told the employee to take his money and "buy books." In Bernie Madoff's case, the apple fell extremely far from the tree.
As a postscript, someone who worked with Madoff told WMR that he does not expect his old boss to live until his sentencing in June. The ex-employee believes that Madoff will not physically survive prison for very long. Given Madoff's extensive and murky intelligence links, there is every reason to believe the ex-employee is making the correct prediction.
More on Madoff operation emerges from insiders – WMR has been informed by former Madoff Investment Securities sources that jailed Ponzi scammer Bernard Madoff's wife Ruth revealed as early as September 2008 that her husband was "under great stress." However, the source also revealed that Mr. Madoff "thrived under great stress."
FBI investigators reportedly asked Madoff employees, after Madoff's arrest on December 11, 2008, whether Madoff had been "acting strange" before the arrest. Employees were also asked to provide the FBI with a psychological profile of Madoff.
A Madoff Investment Securities insider told WMR, "Bernie's mission was to keep the company he created alive with infusions from strangers. They turned out to suffer collateral damage." The source added, "Bernie could not give customers bad news."
Madoff insiders also described how the Ponzi scammer formed his company in 1961. Madoff began his firm with a mere $5,000 in capital.
Madoff was not able to gain a seat on the New York Stock Exchange (NYSE) because of the prohibitive cost of $250,000. Bypassing the NYSE, Madoff developed over-the-counter (OTC) trades and "back doored" trading into the NYSE. Madoff first used card punch machines in the OTC process, progressed to magnetic tape computers, and then employed newer, state-of-the-art technology.
WMR also learned that the computer systems engineer for Madoff who developed Madoff Investment Securities computerized trading system used proprietary software and, more oddly, proprietary hardware. In 1999, Madoff initiated the development of a top secret new trading system called Primex, which attracted the interest of NASDAQ, where Bernard Madoff served as chairman and his brother Peter had previously served as a board member. The computer engineer died a few years ago in her mid-fifties of what was described by a colleague as a "fast-acting" cancer.
WMR learned that Madoff was somewhat incensed about the high cost of gaining a seat on the NYSE. Actor Rick Jason, who co-starred with Vic Morrow in the TV series "Combat," actually had a seat on the NYSE that was bought for him by Jason's father. That made Madoff all the more determined to bypass the expensive NYSE seat requirement to carry out trades. Jason reportedly shot himself to death on October 16, 2000.
When Madoff was considering selling his firm to an unnamed suitor in the late 1990s, WMR was told by a firm insider that one reason Madoff was hesitant to sell was that even during that time frame he was concerned that if his company's books came under scrutiny from a sale that the company would "crash."
WMR also learned that a close associate of one of Madoff's top corporate officers was involved in trying to obtain a U.S. State Department contract for Halliburton, the firm once headed by former Vice President Dick Cheney. The individual in question reportedly was working with Halliburton's office in Baghdad, Iraq.
A Madoff firm source also revealed to WMR that American International Group's (AIG) London office, which reportedly lost some $500 billion, was engaged in an "economic warfare" scheme against countries of the former Soviet Union. The operations coincided with the funding by George Soros of various campaigns to oust governments in Georgia, Ukraine, Belarus, Moldova, Kyrgyzstan, and even Russia itself.
WMR also learned additional details of events that transpired the day before Madoff was arrested, December 10, 2008. Madoff unusually switched his firm's annual Christmas Party from its normal December 17 date to December 10. Not only was that seen as unusual by Madoff employees but so, too, was the fact that Madoff's two sons, Andrew, who ran a spin-off called Madoff Energy, and Mark, were not present at the party. Earlier in the day, both had reportedly spoken to FBI agents about their father's Ponzi scheme activities.
Wayne Madsen for RT
You can share this story on social media: