Recession saw US millionaires claim millions in unemployment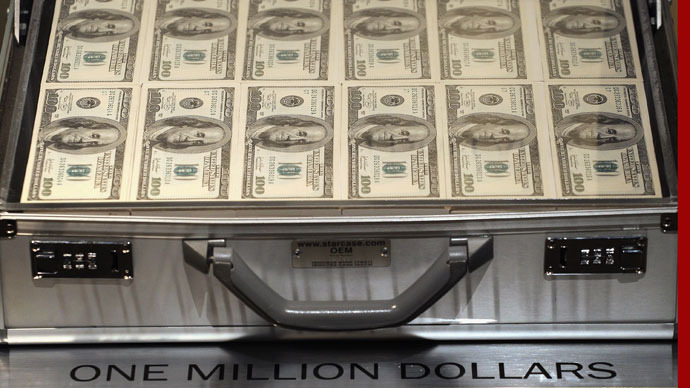 Poring through IRS data can uncover some interesting statistics, apparently, as reports show that in the midst of the economic downturn, $80 million in unemployment benefits have been doled out to American millionaire households.
Some 3,200 households reporting an adjusted gross income of over $1 million collected jobless assistance payments averaging $12,600, for an overall record $29.9 million, in 2010. The real question is, of course, how is it even possible for such households to qualify for the benefits?
According to Bloomberg, in a 2011 bid to prevent millionaires from cashing in on unemployment, the House of Representatives included a 100 per cent tax for unemployment benefits for single filers with incomes over $1 million, and married filers with incomes of over $2 million.

That provision was not included in the final bill signed by President Obama, nor was there any other attempt to reconcile unemployment benefits for million-plus earners and taxation on those benefits.
Heidi Shierholz, an economist with the Washington-based Economic Policy Institute, claimed to Bloomberg that overall, the unemployment benefits system is still sound, as 68 per cent of payments went to households earning under $50,000.
And it may come as a relief, Gary Burtless of the Brookings Institution points out, that the aggregate number of millionaires who collected in September of 2010, the year unemployment peaked, make up just 0.035 per cent of the 9.2. million Americans on unemployment.
Still, the concept of such high-earning households - and, accordingly, households with greater savings and assets - collecting benefits from a government fund as strained as unemployment insurance might strike some as an issue stinging the '99%' of Americans.
It was not long ago, in 2008, when an emergency unemployment measure was enacted to cope with the long-term jobless - that meaning Americans who had been unemployed for at least 26 weeks. As Bloomberg points out, that program was amended some 11 times, with many jobless Americans collecting for as many as 99 weeks.
So, should there be a measure enacted to prevent the country's highest earners from taking advantage of the unemployment insurance system? States distribute these funds based on payroll taxes, so in that technical sense even a millionaire household is as entitled to payments as any other American household.
But the issue many critics of the current unemployment system point to is the program's inability to account for other criteria, such as household savings, and perhaps even existing household debt prior to a loss of employment. An equitable, and more importantly sustainable financial net should be able to discern real need.