New record: 15 percent of Americans on food stamps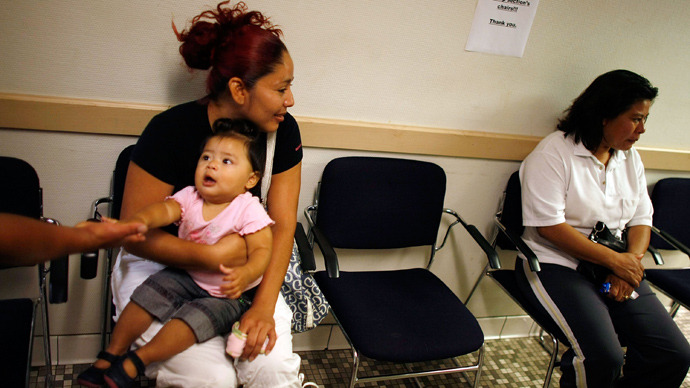 Government dependability is continuing to rise, with a record-breaking number of Americans enrolled to receive food stamps. The latest USDA report shows that 47.8 million Americans, which make up 15 percent of the country, are receiving the benefits.
The US Department of Agriculture has announced that 47.79 million people were enrolled in the Supplemental Nutrition Assistance Program (SNAP) in December, which is up from the 46.61 million who were enrolled at the end of 2011.
Most of these individuals lived in Texas – the state with the highest average of monthly participants, which was 4.04 million in 2012. California had 3.96 million participants and Florida had 3.35 million. The numbers are high, but reasonable, since those states are among the top four most populated in the US. But Washington, DC has the highest ratio of food stamp users. With a population of 617,996 and 141,147 SNAP participants, about 23 percent of city residents were dependent on food stamps in 2012. Texas falls close to the national average, with 15.5 percent of its residents eligible to receive the assistance.
But with an increase of 1.18 million SNAP users in a year and a federal budget deficit expected to hit about $845 billion this year, the rising number of Americans on food stamps simply adds to the costs.
"We spend a trillion dollars each year on federal poverty programs. That's more than the budget for Social Security or Defense," said Sen. Jeff Sessions, the ranking member of the Senate Budget Committee, during his weekly address. "But poverty seems only to increase. Something is wrong. Compassion demands that we change."
Referencing data that shows one in three Washington DC children living in poverty, two thirds of which live in single parent homes, Sessions discussed a problem that is only getting worse.
"Americans are committed to helping our sisters and brothers who are struggling, but we are seeing the damaging human consequences of our broken welfare state," he added.
But the rise in food stamp users is not a new dilemma. Last Thanksgiving, a record-breaking 13 percent of Americans spent the holiday season relying on the SNAP program. During the fiscal year 2011, nearly 20 million children – a quarter of all US children – were being fed with food stamps.  And the number of food stamp users has been creeping up every month, as millions of Americans continue to sink into poverty.
All-time records continue to be broken, and news agencies have largely stopped reporting on the rise in food stamps each month.
As unemployment once again dropped last week, reaching 7.7 percent, the rise in SNAP enrollment is another disheartening economic indicator about the state of the US economy.
You can share this story on social media: