Five-year old leukemia survivor takes San Francisco by storm as 'Batkid'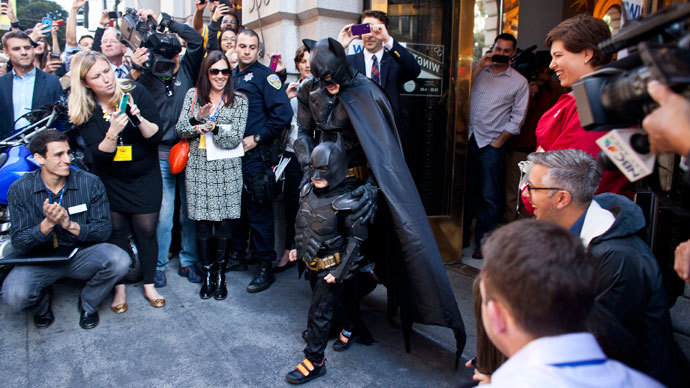 The people of San Francisco turned out in their thousands to greet leukemia survivor, Miles Scott, in the guise of Batkid. The city looked on as the 5-year-old realized his wish to be Batman for a day battling mock crimes across San Francisco.
Miles, who is now in remission after several years of treatment for Leukemia, was met with a surprise when he arrived in San Francisco to collect a costume of his favorite superhero. The Make-A-Wish foundation had organized a day of crime-fighting antics for the pint-sized superhero.

Local media estimated that at least 7,000 people took to the street to cheer Batkid on as he embarked upon his crime-fighting mission in a black Lamborghini emblazoned with the Batman logo accompanied by the caped crusader himself.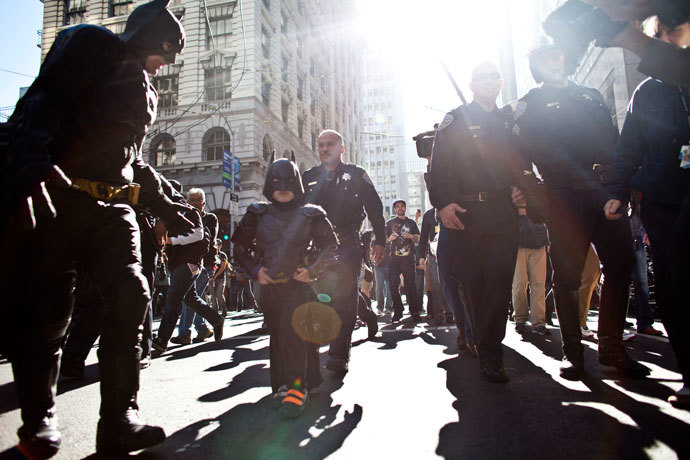 Police officers on motorcycles escorted Batkid as he raced around the city, blocking traffic and closing off roads. Miles rescued a damsel in distress tied to a cable car track in San Fracisco's Russian Hill neighborhood. Enraptured fans cheered and applauded as he disabled a plastic replica bomb she was tied to.
Miles then sped off once again to thwart a bank robbery and capture his arch-enemy, the Joker, red-handed. The Batkid's final feat of the day saw him foil the kidnapping of Giants' mascot Lou Seal by the Penguin.

Batkid's visit to San Francisco was accompanied by social media frenzy with thousands posting photos and messages egging on Miles Scott. President Barack Obama even recorded a short Vine thanking Batkid for "saving Gotham."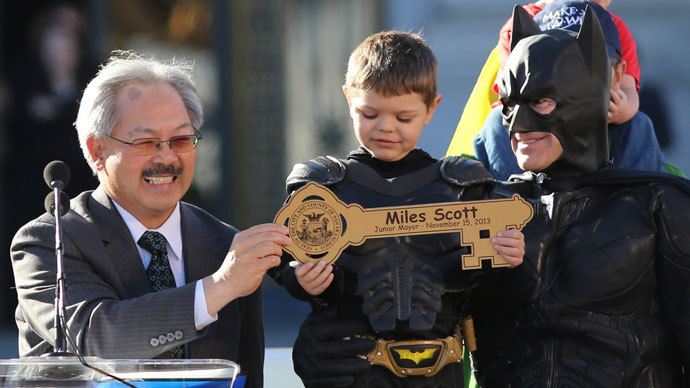 "Everything about the #batkid story just restores my faith in humanity," wrote Twitter user Scot Stevens, while thousands of people posted photos on the Batkid Photo Project page of Facebook.
Great act of human kindness. Well done San Francisco! #batkidpic.twitter.com/qWUrPmOh1r

— Brian Peel (@TheAussieWord) November 16, 2013
Miles was diagonosed with leukemia when he was 18 months old and finished treatment for the disease in June.

His father thanked the Greater Bay Area Make-A-Wish Foundation and the thousands of people who turned out to offer their support for Miles.

"All the doctors, nurses and all the other parents that have to deal with the same thing we're going through. I hope they get a conclusion to their illnesses like we're getting," Nick Scott told KGO-TV.

Miles' mother also expressed her gratitude and said the day was a "celebration" of her son's completion of the treatment.

"This wish has meant closure for our family and an end to over three years of putting toxic drugs in our son's body," she wrote in a statement on the foundation's website.