What the truck? Baltimore to sell ads on fire engines to raise funds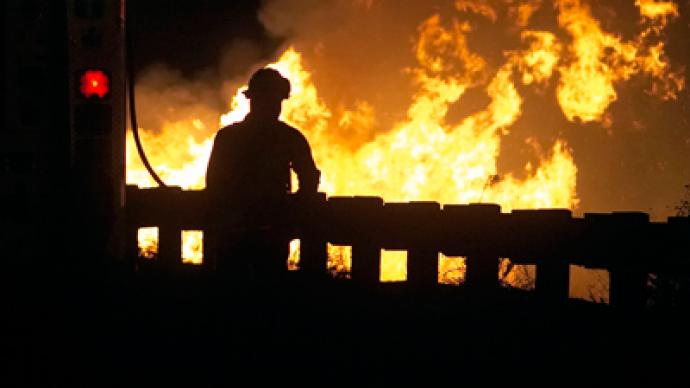 This life-saving rescue squad brought to you by: your ad here? Lawmakers in Baltimore, Maryland have voted to start letting corporations sponsor the city's fire trucks in a last-ditch attempt to avoid an economic disaster.
Baltimore's City Council voted recently to let advertisers rent out the sides of the bright red fire engines that are dispatched to put out blazes across the town. And although it might sound silly, officials say that it is could be the only thing keeping the city from going up in flames — financially, of course.Three fire companies in the Baltimore area are expected to be closed later this summer because city officials have been unable to find a way to raise the funds necessary to keep them afloat. Now with the rest of the city's stations in dangers, they plan to soon sell ad-space on engines in order to make a buck. Mayor Stephanie Rawlings-Blake's office has expressed concern that their plea for corporate sponsorship won't be enough to keep the department from going under, but for now others say it might be all they have to work with."We do not believe fire trucks are an appropriate venue for this type of advertising," mayoral spokesman Ryan O'Doherty tells the Baltimore Sun. Inside the department, though, fire officials fear that rejecting the plan will put the city in danger."Firemen are very traditional — we've been riding on fire trucks that are red since they were pulled by horses," firefighters union president Rick Hoffman adds to the Sun. "But we're talking about people's lives."William Welch is the City Council member who proposed the legislation earlier this year, and he tells the New York Times that he understands it isn't a very orthodox plan. But if desperate times call for desperate measures, Welch says this might be the only solution to bring money back to Baltimore."As I've looked at budgets, they get bigger with less support from the federal and state governments," Welch tells the Times. "And we can't tax people out of existence. We're trying, our mayor's trying, to bring 10,000 more people back to Baltimore city. And if you have an increasing fee or tax structure, you're not going to be able to do that. So you have to create alternatives."MediaWorks LTD, a Baltimore-based communication firm, has been in touch with Council-member Welch to work out the best way to implement the ad-program. Talking to TheTakeAway.org, Jody Berg from Mediaworks says, "In our industry, we're always looking for new vehicles and new ways for our clients to showcase and brand their message," adding, "if you can do it at the same time as helping your community save jobs and save lives, it could be a win-win situation for everybody."Even if it means selling-out the city's first responders, some are saying that it is the necessary if it's the only option left."It's safe for Baltimore, it's good for Baltimore, and I'm okay with it," President Hoffman explained to Reuters earlier this month when the measure was approved by city legislators.