Maryland man fights ban on filming cops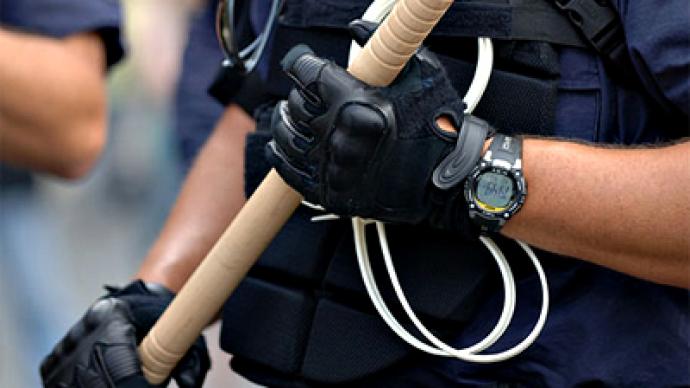 The Police Department of the city of Baltimore are the subject of a First Amendment lawsuit that alleges that officers threatened citizens while they attempted to record a brutal beating carried out by cops.
The American Civil Liberties Union of Maryland is going after the Baltimore Police Department after Christopher Sharp had his cell phone confiscated and all of its contents destroyed after he filmed police use excessive force on a friend of his during the 2010 Preakness Stakes horserace. As an unnamed female friend was cuffed as she laid belly-down on the floor of the Pimlico Race Course, Sharp hit record on his cell-phone camera to capture the woman bloodied and beaten by a slew of cops. The BPD demanded that he turn the "evidence" over on the spot, only for them to erase the information, however.Maryland state law makes it illegal for the public to record audio of cops and any subjects that are believed to have a reasonable expectation of privacy in their communications. In September, though, Circuit Court Judge Emory A. Plitt Jr rules that police should not expect such privacy while performing their duties on the job. Judge Plitt ruled in his decision in favor of a motorcyclist who was defending his right to record his own arrest during a traffic stop in Harford County, Maryland. In the case of Sharp, officers did not make a copy of the supposed-evidence but rather erased it along with the rest of the phone's contents — including personal recordings of the man and his young son that was accumulated over the course of a year-and-a-half. "I'm heartbroken over the videos I lost of my son and I doing things together," Sharp says in a press release. "The videos were keepsakes of memories like his soccer and basketball games, times at the beach and the Howard County fair. It kills me that the police acted as if it was okay for them to could just wipe out some of my fondest memories. I used to trust police, but now I don't anymore, because of how wrongly the police acted here, and because it seemed like this was just routine procedure for them."The ACLU is arguing that the seizure and deletion by the BPD is a violation of Sharp's constitutional rights. Last week they filed a lawsuit in Baltimore Circuit Court against the city's police department, its commissioner and three officers that are unnamed in the suit. In their suit, the ACLU argues that officers in Baltimore "routinely threaten to arrest or punish civilians who document police activity, using the Maryland Wiretap Act and related, inapplicable infractions to back up these threats." Baltimore Police Department spokesman Anthony Guglielmi wouldn't comment directly on the case to The Associated Press, but said procedure for a cell phone seizure, when taken into police hands for evidence, usually mandates that the officer obtain a search warrant in order to review the footage. Sharp tells the AP, "It was just normal procedure for them: covering their backs and they didn't care really how it affected anyone else." Other footage of the incident has since surfaced, however, which shows a handful of BPD officers screaming at Sharp's beaten friend, who attracts a scene as she drips blood over the Clubhouse floor at Pimlico. ACLU Legal Director Deobrah Jeon remarks in a press release that "camera phones have become an important accountability tool" and is also rallying for Sharp and others to have the right to keep an eye on coppers, especially during incidents such as this. "It is antithetical to a democracy for the government to tell its citizens that they do not have the right to record what government officials say or do or how they behave in public," added the director.Hundreds of miles away in Illinois, Michael Allison recently attracted attention after he was charged with five counts of eavesdropping, which, if convicted, would land him in prison for the rest of his life. Allison was filming cops that were inspecting his automobile, parked on his mother's property. In response to Allison's arrest, radio host Alex Jones told RT it's "the scariest thing I've seen in a long time that the police would knowingly try to put this guy in prison for life for simply videotaping."Allison is also seeking help from the ACLU and has refused a plea deal from prosecutors, saying instead he needs to fight for his rights before "we're all going to lose them," reports Gather.com.Sharp is seeking compensation for his suffering and property damages, but the ACLU is also going after the Baltimore Police Department to change their ways. They are asking in their suit for an injunction that would keep officers in the BPD from punishing anyone who makes audio recordings of cops on the job.During the second, un-erased phone footage, an officer is clearly heard telling someone that they are breaking the law and have to stop recording. The ACLU thinks these videos offer a clear insight into the workings of the police departments that are often gone undocumented, and write in a press release that "Such videos can provide critical evidence, which sometimes disprove allegations of police misconduct, and sometimes prove such allegations."The ACLU gave the BPD 21 days to indicate how they would respond to their intention to sue but the Police Department has yet to issue a statement, over a month later.
You can share this story on social media: