Bachmann takes the lead in Iowa polls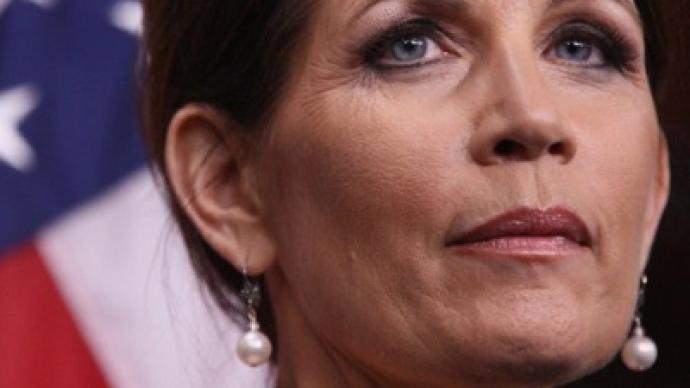 Congratulations, Mitt Romney! Michele Bachmann has officially surpassed you as the top contender for the GOP nominee for the presidency.
The results of a Public Policy Polling survey conducted among "likely to vote" Republican residents of the state of Iowa put Bachmann ahead of Romney in a one-on-one race with the US congresswoman taking the lead with 44 percent to the former Massachusetts governor's 41.
When asked whom they'd favor in an election where Sarah Palin is not involved, more Republicans also favored Bachmann over Romney but only by a one percent margin. If the former Alaska governor and ex-VP candidate does enter the race, however, Iowa voters at this point would learn more towards Romney, but only barely.
In another blow to Romney, the vast majority of Republicans in the state of Iowa say that they would be against a candidate "who supported a law at the state level mandating that people have health insurance." If the fine people of Iowa catch on to some of the things Romney was responsible for while presiding over Massachusetts, it wouldn't be unexpected for Bachmann to take a large leap ahead in the race.
In another poll of Republican candidates conducted for The Iowa Republican, citizens also put Bachmann ahead of Romney at 25 to 21 percent.
"Her numbers suggest that Bachmann has found a very effective way to appeal to caucusgoers," Craig Robinson, a former political director of the Iowa Republican Party, writes.
With more than a year until the election rolls around, it's not certain if Bachmann's favorability will be matched elsewhere in America. It should be noted too that she was born in Waterloo, Iowa and has emphasized her roots for The Hawkeye State, giving her a home-turf advantage among caucusgoers.
Last month Bachmann fumbled with her allegiance for Iowa when she mistakenly said the state also bred cowboy legend John Wayne. Her hometown of Waterloo was actually the former residence of a different John Wayne — a much different John Wayne, in fact. It turns out that Bachmann shares her birthplace with no other than infamous "killer clown" serial killer and rapist John Wayne Gacy.
The results of The Iowa Republican poll of 500 likely caucusgoers conducted in late June put Herman Cain and Tim Pawlenty at 9 percent each, with Ron Paul, New Gingrich, Rick Santorum and Jon Huntsman rounding out the roster.