​Major US telecom patents system to detect, neutralize file-sharers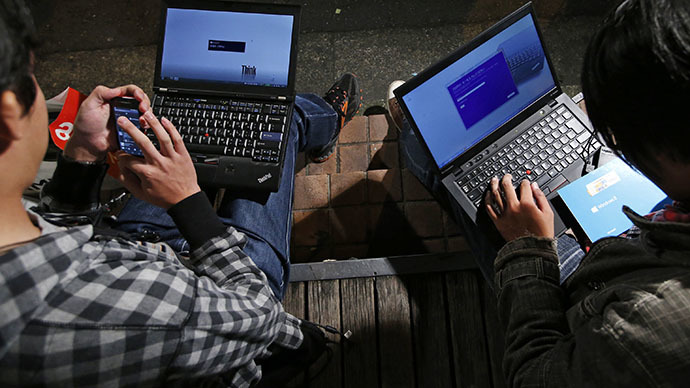 Internet service provider AT&T recently added a new anti-piracy patent which features technology that can detect file-sharers on its own network, assigning risk assessment to users and potentially limiting alleged pirates' access to file-sharing sites.
A new patent awarded to the telecom giant's Intellectual Property division depicts a system that can classify unauthorized file-sharing users, designate them within a "risk category," and take actions to counter future objectionable behavior.
The patent, titled "Methods, devices and computer program products for regulating network activity using a subscriber scoring system," seems mostly aimed at combating online piracy - an ongoing target of internet service providers like AT&T, entertainment lobby groups such as the MPAA, and the Obama administration alike.
"Internet piracy may account for significant bandwidth usage, which may be problematic for a service provider," AT&T says in the document. "Thus far, copyright protection measures that have been deployed by, for example, the entertainment industry, have failed to curtail increases in Internet piracy."
"For example, millions of downloads may result from just one file that is posted on a shared network. Thus, efforts to date have been insufficient in protecting a user and/or a service provider from the results of unwanted network activity, which may pose significant risks to the user, network and/or service provider."
Unauthorized file-sharing generates thousands of petabytes of traffic each month, according to TorrentFreak.
Surveying network-use patterns, AT&T's system can assign a Subscriber Reputation Score (SRS) that assesses risk among users.
Though the program can be used for a variety of network operations, AT&T seems most focused on file-sharing.
"The SRS may be used to identify subscribers engaged, whether volitionally or otherwise, in high-risk network activities such as, for example, file sharing and/or Internet piracy. In this regard, mitigating services may be provided and the network and/or the subscriber may be protected from such high-risk network activity," AT&T says.
Once a subscriber is considered a risk for file-sharing, the company can limit network access.
"Some embodiments provide that subscriber protection may include providing a walled-off and/or secured portion in the network in which the subscriber can have limited access to the network. For example, in some embodiments, access to risky network resources, such as, for example, illegal file sharing websites, may be denied," the patent says.
What is not yet clear is whether AT&T wants to implement or even test the SRS system on its network.
Already in 2013, AT&T has patented systems to track content shared on BitTorrent and other P2P networks, and to flag perpetrators for law enforcement.
The Obama administration has launched efforts against intellectual property theft, including the Joint Strategic Plan run by Vice President Joe Biden which aims to curb copyright infringement.
Though even as Biden's "six strikes" anti-piracy plan was being unveiled in 2010, the US Army was concurrently using pirated Apptricity enterprise software which managed troop and supply movements. The company sued the government, accusing the US military of willful copyright infringement.
Copyright enforcement has also taken on file-sharing indexing sites such as The Pirate Bay. The popular Torrent website has so far managed to stay active, and growing, through the use of mirrors, and through compliance with copyright takedown notices.
You can share this story on social media: