Atheists sue Gov. Perry for prayer rally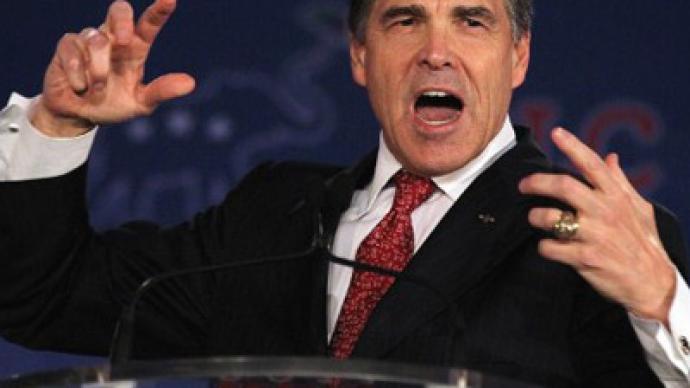 Texas Governor Rick Perry might be kept from continuing his support of an upcoming prayer party if a Wisconsin-based collective of atheists succeeds in their plans of preventing Perry from promoting it.
The Freedom from Religion Foundation is attempting to block the governor from participating in the event scheduled for next month at Reliant Stadium in Houston, TX, saying that Perry's participation in the rally is in violation of the US Constitution.Perry is planning on holding "The Response: A Call to Prayer for a National in Crisis" on August 6, but the atheists attest that his involvement would breach the separation of church and state. Five individuals filed a federal lawsuit in Houston on Wednesday, saying that they are "nonbelievers who support the free exercise of religion, but strongly oppose the governmental establishment and endorsement of religion."On the official website for the Rally, Governor Perry writes that "Right now, America is in crisis: we have been besieged by financial debt, terrorism, and a multitude of natural disasters.""As a nation, we must come together and call upon Jesus to guide us through unprecedented struggles, and thank Him for the blessings of freedom we so richly enjoy," adds the governor.In the official complaint, plaintiffs suggest that Perry's participation in the rally violates the Establishment Clause of the First Amendment by "giving the appearance that the government prefers evangelical Christian religious beliefs over other religious beliefs and non-beliefs, including by aligning and partnering with the American Family Association, a virulent, discriminatory and evangelical Christian organization known for its intolerance."Perry's camp has since become aware of the lawsuit and believes that next month's rally will go on as planned."He (Perry) believes it will serve as an important opportunity for Americans to gather together and pray to God, seeking his wisdom and guidance as our nation navigates the challenges before it," reads a written statement from his office. "The pending litigation does not affect plans for the prayer event."While Perry is involved with the rally, the event is also being co-hosted by the American Family Association, whom the Freedom for Religious Foundation says "promotes a rabid evangelical Christian agenda that is hostile to non-believers, non-Christians and other protected groups, such as gays and lesbians.""Gov. Perry's distasteful use of his civil office to plan and dictate a religious course of action to 'all citizens' is deeply offensive to many citizens, as well as to our secular form of government," says FFRF Co-Director Dan Barker in a statement this week.In the past, an official at the American Family Association blamed homosexuality for Hitler and the holocaust.MSNBC host Rachel Maddow also linked this week several preachers slated to participate in the rally with extremist views, including one who thought a "sun goddess" sex scandal involving the Japanese emperor caused the stock market to fail in the east.
You can share this story on social media: