As Assange awaits asylum answer, US demands separate extradition from Sweden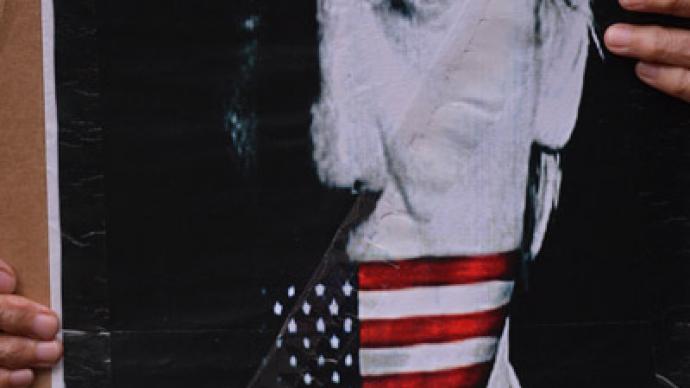 Sex crime allegations could soon lead to Julian Assange being extradited to Sweden where his supporters fear authorities will hand him over to American officials investigating his WikiLeaks site. If that's the case, then Assange isn't alone.
While the exact future of Julian Assange remains unknown to just about everyone — including Swedish prosecutors demanding his extradition, American investigators asking questions about his role with WikiLeaks, his family in Australia and the government of Ecuador where he is seeking asylum — America is already asking for Sweden to send over someone else for them to scold. David Hemler, the 49-year-old US Air Force vet who went AWOL nearly 30 years ago, might soon be sent from Sweden to the States.Helmer made headlines earlier this month when the servicemen long-assumed dead by his biological family came clean with his whereabouts — disillusioned by America's foreign policies, he fled the Air Force in 1984 at the age of 21 and hitchhiked to Sweden, where he has since lived comfortably under an assumed identity and has fathered three children."I never planned on it being this long," Hemler told the New York Times earlier this month. "Days went and weeks, and I started to realize that maybe the military police weren't coming. I just felt so good. I had a delayed teenage rebellion, you could say.""I never planned on not telling the truth in the beginning. I intended to come to Sweden until I felt better," he added to the Dagens Nyheter newspaper.Outside from going AWOL, Helmer is not believed to have committed any crimes. Fearing repercussions, that could come from a return to America, though, he has stayed in Sweden for 28 years to stay close with the family he started there."I may be safe, but my parents may never able to see me if I cannot come home," he told the Times. "I think I have been punished. I've been worrying my parents to death for 28 years."Only a few days after disclosing his dark secret, the US is already asking questions to Helmer. Now his attorney fears that an extradition is quickly approaching for the man who deserted the military nearly three decades earlier."They want to do a DNA test and take fingerprints to check his identity. He is ready to do that because he wants to show that he is who he says he is," lawyer Emma Persson tells Reuters."They want him to hand himself over and go to court," she says, while noting that Hemler had not agreed to those terms. "They were clear that there would be some sort of punishment."While Assange has no ties to the Helmer case, Swedish authorities are demanding that the UK extradite the WikiLeaks publisher so that he could be questioned over his alleged role in two sex crimes there. Assange has been hulled up inside of the Ecuadorian Embassy in London for over a week now awaiting that country's decision on his plea for political asylum so he can avoid extradition to Sweden, where he fears he will only be forwarded to American authorities. Although Sweden has not confirmed that they'd extradite Assange if he was sent from the UK, his supports are all but certain that the countries will coordinate a transfer of the whistleblower to America. With Helmer's case coincidently developing at the same time, it's now known that the US is willing to demand an extradition of even people as low-profile as the Air Force trooper gone AWOL. On Thursday of this week, Britain's High Court refused a US bid for the extradition of a convicted sex criminal with dual citizenship in the US and Ireland, 43-year-old Shawn Sullivan, because British officials do not agree with the prison sentence that would be imposed on the man if he is transferred.