#TwitterPedoRing: Anonymous launches attack on child predators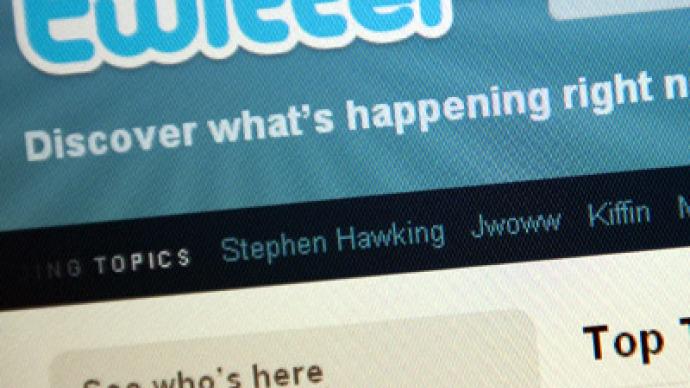 David's Twitter profile is simple, and probably should be. After all, he is only in junior high.
"I'm 14 year [sic] old" is how he describes himself in his online bio. On his timeline, David tweets what you might expect: praise for professional wrestling, Family Guy excerpts and 140-character reviews of his afternoon pick-up games. Every now and again, however, David's profile in punctuated by messages penned by elusive perverts stalking cyberspace for young boys just like him.In an August 19 tweet, David writes, "Only one thing can control me and that's you." Angela, another young teen with a love for singer Mandy Moore and vlogging, is the only person that retweets David's message, accompanied by an emoticon. Somewhere on the Web, though, a man nearly four times his senior sees David's love tweet and offers an unprovoked response."I wld luv that," writes John from Ohio. His Twitter profile is much more simple and to the point."52 yr gay love boys" is John self-description. For pages and pages, any user of Twitter can comb through his often one-sided correspondence with unsuspecting minors. "I like the braces," John tweets 9-year-old rap artist and Internet personality Matty B. last week, "but u probaly been weearing them awhile." That same day, John sends a 13-year-old Twitter users named Pat, "can we talk?"John — who uses the Twitter handle "@jjrjr_"— is an outlier, of course, among one of the world's most celebrated social media sites that claims to have around 140 million registered users. That isn't to say he's alone, though. On Twitter, Facebook and elsewhere on the Web, grown men are patrolling for pre-teens and young boys and girls and are sending them sexually suggestive messages over the Internet. That could all end soon, but not necessarily under the watch of the FBI or any local law enforcement agency. This week the profiles of John and dozens of other child predators were released to the Web by the same group that the government has linked to acts of terrorism. The trove of Twitter accounts was leaked to the Web on Monday by the hacktivist collective Anonymous, and the group is looking to prove that they aren't necessarily a club that's hell bent on causing chaos without an agenda. "This is a list of pedophiles that Twitter hasn't deemed important to remove despite their affiliations with each other, their posts of children participating in lewd acts, and their requests for this sort of material. We are releasing these names in hopes that Twitter will work together with LEA in order to catch and stop these scumbags," an operative with the loose-knit hacktivist collective explains in a preface to the collective of user names. "You mess with our children, you mess with us."This is not the first time that Anonymous has taken on child predators that lurk on the Web, but given their ever-expanding notoriety, it might be the last time they'll be left to take matters into their own hands. Last year the group released the results of #OpDarkNet, a mission its members engaged in to expose pedophiles who relied on encryption programs and masking technology such as the Tor Project — the same used by hacktivists to elude global censors — to swap pornographic material of children. In that instance, they published the IP addresses and online histories of 190 users linked to shady, underground sex sites frequented by fans of barely clad youngsters. "The purpose of #OpDarknet was to collect evidence and prove that [one percent] of Tor users who use Tor for [Child Pornography] are the ones causing the problems for the rest of the Tor community, the 99%," an operative with the group wrote at the time. Back then, another operative told the website Gawker that it was necessary to make a move before the authorities did because "they'll take forever.""Due process for some of these guys are so weak," one Anon told Gawker. "The best way for Law Enforcement to react is for us to release it. They can chose to follow or not."Should the FBI chose not to capitalize on Anonymous' latest endeavor, they might be left with more than just a little explaining to do. In recent years, the online collective of international hacktivists have increasingly become the target of law enforcement agencies. This year's highly-publicized arrest of Hector Xavier Monsegur, 28, a programmer that hacked for the Anonymous offshoot LulzSec under the handle "Sabu," revealed that the FBI had infiltrated the group months earlier and had at least one mole working to rat out the rest of the group, with a membership believed to extend into the tens of thousands across all corners of the globe. According to a book released this week by Forbes' Parmy Olson, WikiLeaks founder Julian Assange sought assistance with Anonymous and LulzSec last year and spoke directly with Sabu all while the hacker was working directly for the Federal Bureau of Investigation.Authorities alleged that, before turning mole, Sabu was instrumental in Anonymous-led hacks of, among other firms, two agencies with governmental ties: Stratfor and HBGary Federal. In those instances, US agents charged Monsegur with compromising data from the company's servers in an attempt to expose corruption within entities on Uncle Sam's payroll; in the case of the Stratfor attack (which was released well after Sabu's arrest), government-hired intel gatherers were linked to spying on Occupy Wall Street encampments. After helping expose the government's surveillance of peaceful protesters, Sabu stands to face life in prison. Pedophiles and predators, however, are tweeting en masse without seemingly any infiltration from law enforcement. More than 12 hours after Anonymous began posting the Twitter accounts of alleged predators, many of them are still active. Immediately following the publishing of Sabu's arrest in March, an FBI official close to the investigation told reporters that they were "chopping off the head of LulzSec" and said that the news would be "devastating" to the rest of Anonymous. Self-proclaimed Anons were quick to fire back, though, saying that it's impossible to arrest and erode the meaning behind their message. "We don't have a leader," read one tweet from the YourAnonNews account. "A movement against authority without leaders drives authority insane; they can't break down a movement by corrupting the leader," they add. Nearly three months later, Anonymous seems to be right. Judging by the recent hack of the US Department of Justice, the collective shows no sign of slowing down. It's been seven months since Anonymous last tackled child predators and clearly that's a battle still underway. Given their latest release, however, Anonymous might be better at policing the Web than any of the government agencies paid billions to protect children.
You can share this story on social media: