Brewers asked to back their beer out of Minnesota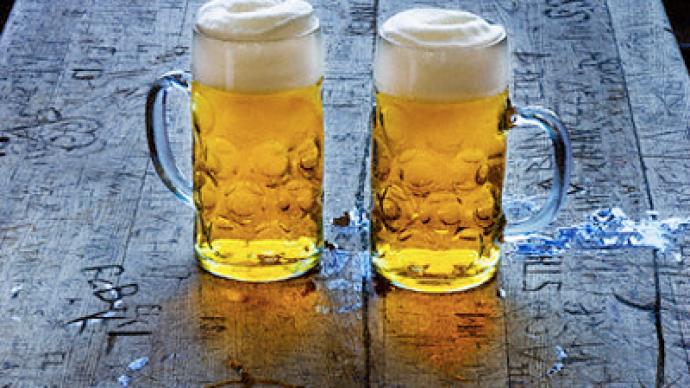 If the drama surrounding the governmental shut-down in Minnesota is making you want a drink, think again. Some big-name brewers might be forced to pull their products from state shelves.
The Minnesota Department of Public Safety has told the MillerCoors group that they are going to have to take all their beer out of state shops in a move that would cause the Land of 10,000 lakes to practically dry up.State law requires that brewers renew their brand label registration every three years in Minnesota, a law which allows the makers to display the label on each brand of beer. MillerCoors' contract is slated to expire, however, and with no governmental office available to renew their license, the brewer is being asked to prepare to steal backs their supply of swill.MillerCoors says that Minnesota makes up one of its largest markets in the country, where the company distributes several brands of brew, including Coors Light, Miller Lite and Blue Moon beers. More than one-third of the Minnesota beer market is made up of products produced by MillerCoors."Right now we are exploring all options that are available to us," spokesman Julian Green tells the Star Tribune. "We are currently in discussions and hoping that we can get a resolution with the state, with the agency that enforces the sale … of alcohol."Doug Neville, a spokesman for the Department of Public Safety, adds that he suspects that the products will have to be pulled within days.MillerCoors says that they attempted to renew their license back in mid-June, but the company actually over-paid the registration fee and the process was delayed. Green says that they sent in a new check, which the state received on June 27, but were told three days later that their licenses had expired."We believe we've followed all applicable state laws on this," Green tells the Star Tribune.Should the government remain shut down through the autumn, Anheuser-Busch stands to lose their license as well. That blow would cause beers from Budweiser to Busch, Rolling Rock to Land Shark and even 40 ounces bottle of Hurricane High Gravity Lager to be taken out of stores.And come Labor Day, cigarette makers stand to lose their licenses, too.The Minneapolis Star Tribune reported on Tuesday that many watering holes in the state are unable to renew their state-issued "alcohol purchasing cards" for $20, leaving them left unable to replenish stock. Over 400 establishments have since been affected and another 116 cannot buy liquor — because they have no one to send their tax payments to.The melee surrounding MillerCoors is affecting dozens of beers, in addition to the aforementioned high-sellers. Icehouse, Keystone, Milwaukee's Best and Sparks Light are all impacted by the license snafu, surely causing fraternities state-wide to consider disbandment.
You can share this story on social media: