Jesse Ventura: Enough government cover-ups!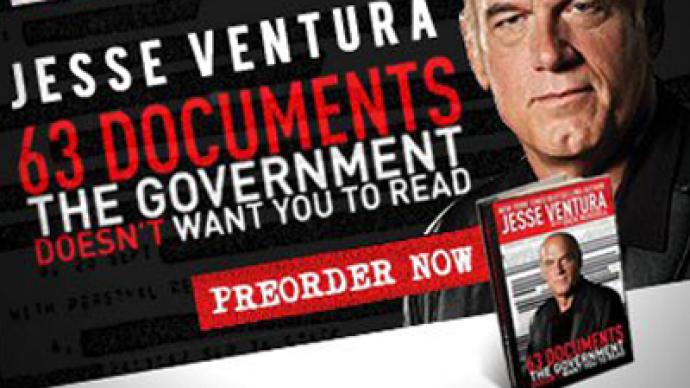 RT's Anastasia Churkina caught up with TV personality, best-selling author, former Governor of Minnesota, former US Navy Seal and professional wrestler – Jesse Ventura.
His latest book"63 Documents the Government Doesn't Want you to Read" hit the shelves in the US this April.Ventura said his book has the spirit of WikiLeaks, the difference is – they have been available in the public domain, it's just that the mainstream media, according to the author, has not been willing to dig up any of the covered up information. Revealing the truth was Ventura's goal. Although, Ventura claims he is not set to become the new Julian Assange."The most difficult thing about doing this book was that these documents, you could substitute the word Nazi, and it would work. And that troubles me," said Ventura. He brought up the example of the CIA Assassination Manual as well as documents from the 40s and 50s about the US having gone to Nicaragua to test out syphilis medicine on the unknowing people of Nicaragua.Ventura says there are as many as 16 million documents in the US that were declared top-secret and covered up last year by the American government, and claims US citizens deserve to know what is being hidden, because they pay taxes and do their share of following the Constitution and Bill of Rights.As a solution to the lack of transparency, Ventura called for a peaceful American revolution. The Governor believes politicians in Washington, DC have long sold their souls to their benefactors on Wall Street."The next time we have an election, vote for anyone but Democrats and Republicans – anyone," said Ventura.Would that solution ensure a real change of the system, and could the people trust a "third option?""How could it turn out worse?!" exclaimed Ventura. The Democrats and Republicans don't follow the Constitution, and the Supreme Court is bought off too, believes the Governor.
You can share this story on social media: