LA rebel artists defy attempts at censorship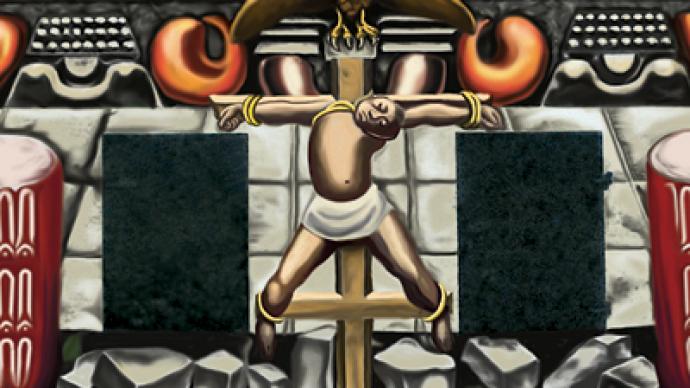 In the land of the free, revolutionary artists have been banned in the past, but young Chicano artists are fighting back and speaking out against what they say is imperialistic oppression.
Mexican artist David Siqueiros was a student agitator and a communist.  To many Siqueiros was also the first modern day graffiti artist. Jailed in Mexico for his political activities, Siqueiros came to Los Angeles in 1932 for what turned out to be a tumultuous 7 months. "The establishment in Los Angeles didn't want the specter of radicalism in Southern California," said Jonothan Spaulding, director of the Autry Museum in Los Angeles. "He takes this opportunity to do a mural about tropical America oppressed and destroyed by imperialism and he has the figure of the campesino tied to the cross with the U.S. eagle above him holding the coins of American power," added Spaulding. Today, thanks to his portraits of war and political oppression, Siqueiros is recognized as one of the 20th century's great masters.  Then, pieces like "America Tropical" were far from appreciated by the conservative politicians. The mural was whitewashed within 3 months of its opening. The great niece of Siqueiros, Anna, says her great uncle knew exactly what he was doing.'When you really upset the artist, that's when the artist begins retaliating and hitting back with their creativity. And I think that's a base that politicians can be fearful of," said Anna Siqueiros. Nowadays, the youth of Los Angeles are getting great inspiration from the strong images painted by David Siqueiros.  Artists like Ernesto Yerena who is making a name for himself in L.A.  With his images and his activism, he hopes to open the eyes of Americans to what he sees as an attack on Latino communities and the working class. "The working class white people are being fed that all these Mexicans are taking your stuff… no no. The people taking your stuff are the same people taking everyone else's stuff," said Yerena. But Yerena's original artwork has a much bolder political message."I'm talking about white capitalist imperialism.  If you're not part of the 5 percent that kind of run the country or that own the banks that own all the corporations that just pay the politicians then I'm not talking about you.  If you're working class white folk then you're on my team," said Yerena. Friends like Rage Against the Machine front man Zach de la Rocha opened Yerena's eyes to injustices."The people that had to go in (military) for economic purposes or because they were lied to, they're victims of imperialism… It's not the rich people that are part of the Army it's the poor kids," said Yerena. While Yerena tries to provoke action with his art, Siqueiro's family still thinks artists and activists need to do more. "They're not radical enough," said Anna Siqueiros. "Now we have to be radical. We have to be radical in our thinking," she added.Attempts are being made to bring back Siqueiros' famous America Tropical mural. With it, hope many Latinos, will come a recognition of Los Angeles' Latino identity censored for decades by a system intent on covering up what some consider the ugly truth.