Dozens of high schoolers nabbed by undercover cops posing as students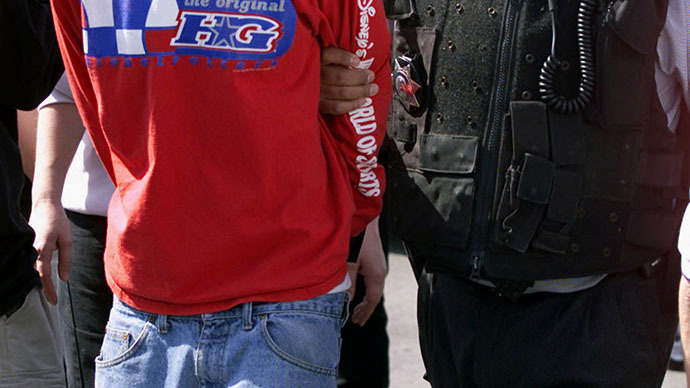 Over two dozen students in California have been implicated in a drug dealing operation after police officers spent a semester undercover at two schools in an attempt to eliminate drug dealing on the campuses.
Authorities said they apprehended 25 students - 23 juveniles and two adults - who were selling illegal drugs at Perris High School and Paloma Valley High School on December 12. Both schools are located in Riverside County in the southern region of the state.
Lieutenant Paul Bennett told the Riverside Press Enterprise that most of the transactions were for small amounts of marijuana, but cocaine, crack, methamphetamine, hashish, and prescription pills were also involved.
Students said that deputies descended on their school in the morning, rushing into classrooms with a list of names and handcuffing those suspects in front of their classmates.
"They knew who they were looking for and exactly how to get there," said 16-year-old Anthony Rodriguez. Another student said it was "scary" to watch "my friend get arrested."
But the unusual method of investigation had students wondering who among their friends was really a police officer - an idea the school district was reportedly unconcerned about when the Sheriff's Department approached administrators earlier this year. Jonathan Greenberg, superintendent of the Perris Union High School district, told the Press Enterprise that he was not at all hesitant about giving the police such access.
"It was a question of what we could do to assist them," he said. "This is a very well-researched program. The people in it are all professionals."
The superintendent said there were just three administrators in the entire district who were aware of the investigation and that no one on campus was notified. He said members of the school board were informed on the night before the arrests took place.
The Sheriff's Department has launched a number of similar investigations in recent years, with approximately two dozen students taken into custody at two schools in nearby Temecula. One of those apprehended was a student with autism in the special education program. His parents have since filed a lawsuit against the district, alleging negligence and intentional infliction of emotional distress.
"Certain parts of my son have been damaged in ways that I think will be permanent," Doug Snodgrass, the autistic student's father, told the Huffington Post in October. Snodgrass said his son had trouble making friends and when that opportunity was presented to him, he would do anything to keep that relationship – including engaging in drug-related activity.
Superintendent Greenberg and the Riverside Sheriff's Department said they feel most parents are in favor of the program even if, as one mom put it, parents "highly doubt it's going to stop" drug use.
But others have actively spoken out against the program. Tony Newman, director of media relations at the Drug Policy Alliance, issued a statement earlier this year condemning high school investigations because teens can be emotionally manipulated.
"Sending police and informants to entrap high school students is sick," he said. "We see cops seducing 18-year-olds to fall in love with them or befriending lonely kids and then tricking them into getting them small amounts of marijuana to they can stick them with felonies."
You can share this story on social media: