Texas student arrested after filming police traffic stops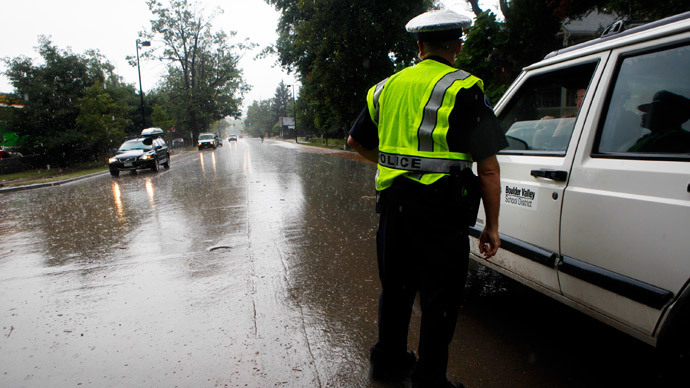 A University of Texas at San Antonio college student has reportedly pressed charges against a local law enforcement officer after she was arrested while recording a police speed trap with her cell phone.
Abie Kyle Ikhinmwin, 25, was standing with her bicycle in front of a bus stop last week when she started to record footage of a marked police car pulling over suspected speeders on an adjacent road. When all was said and done, though, she was one of the unfortunate ones who ended up with a traffic citation — as well as a ride in the back of a cop cruiser.
As evident in the videos Ikhinmwin uploaded to her YouTube page, at one point while recording the clips she was approached by a San Antonio Police Department officer and asked to move her bike away from traffic.
"What's the traffic violation? I'm 12 inches from the curb. Am I not 12 inches within the curb?" she asked on camera.
When Ikhinmwin refused to relocate her two-wheeler, the officer asked for identification. After refusing to comply with that order, the cop handcuffed the woman and hauled her in.
"You can't just arrest me for sitting at a bus stop," the college student is heard telling the cop on camera.
"I don't want to hurt you," the police officer responds. "M'aam, you're going to go to jail, that's what's going to happen. You're already going to jail."
According to local news network KENS 5, "she was eventually dragged by her hair into a squad car, but not before suffering bruises that would keep her out of school for a week."
Ikhinmwin spoke with the station afterward and said of the incident: "I've never been so dehumanized in my life."
"Her bike was confiscated, along with her school books and computer," KENS 5 reported. On top of that, though, she also received one citation for failing to obey an officer and another for impeding traffic. With regards to the arrest, though, she says that was the result of being charged with failure to provide identification to a police officer.
Ikhinmwin, a criminal justice major at the local college, is pressing charges against the officer, KENS 5 reported.
According to the authorities, however, the arresting officer was never in the wrong.
"I think there was somebody there that certainly seemed to be failing to obey the police officer's orders," SAPD Sgt. Javier Salazar told the station after being asked for comment.
On her personal Facebook page, Ikhinmwin wrote, "If I were looking for fame it wouldn't be from an officer beating me up."
KENS 5 reporter Joe Conger claims Ikhinmwin told her that officers took four hours to come up with the failing to produce identification charge after she was apprehended. The SAPD confirmed to Conger that they are investigating the ordeal.
You can share this story on social media: