Notorious anti-immigration Arizona sheriff wants fleet of drones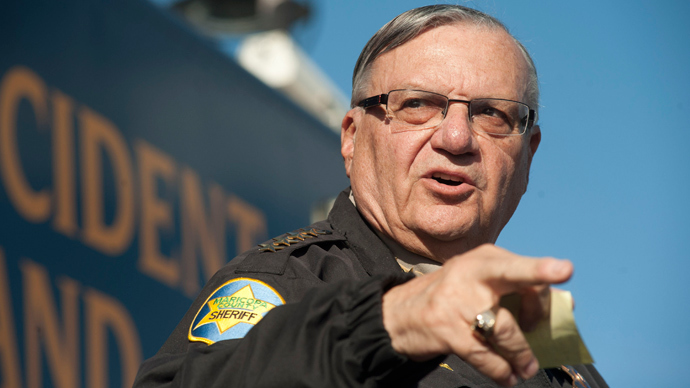 Yet another law enforcement agency is looking to acquire a fleet of surveillance drones, but don't act too surprised. Sheriff Joe Arpaio, the controversial lawman from Maricopa County, Arizona, is interesting in adding drones to his arsenal.
Arpaio, 81, has made headlines before over his vehement stance against immigration and his thoughts about United States President Barack Obama. Now he's in the news again, and this time because he wants to bring unmanned aerial vehicles to Maricopa County to protect its almost 4-million residents.
"I want two of these drones, unmanned and of course unarmed," Arpaio told local network ABC15.
The US Department of Homeland Security and the Federal Bureau of Investigation already have drones on the ready that can be deployed during emergency situations, and dozens of small law enforcement agencies and organizations as of late have applied for permits to control unmanned aerial vehicles in a limited airspace. Now Arpaio wants Maricopa County to be on the list of locales cleared for drone use in certain situations, and he's hoping an eye-in-the-sky surveillance tool will help stop crime and catch criminals.
Arpaio told the ABC affiliate that he was hoping to conduct "Surveillance regarding crime scenes and drugs [and] catching dope peddlers," and explained, "sometimes it's difficult to get to these areas but if you have this great equipment to take pictures it would help."

"These are good, useful tools," he said.
The sheriff also said he'd also like to start by putting drones directly over local prisons in order to keep an eye on unruly inmates, and acknowledged, "We do have some small problems with people throwing drugs over the fence." Hovering drones overhead, Arpaio said, would likely deter criminals from engaging in this behavior.
Arpaio also suggested investing the money made from catching drug peddlers into the drone program, allowing the program to essentially fund itself.
"Isn't it great? It would be the criminals buying these to arrest more criminals," said Arpaio.

As for acquiring an UAV system, though, Arpaio said it might be easier said than done.
"I hope to get this done pretty quickly, I don't like procrastination, especially bureaucracy," said Arpaio.

Earlier this year, Pres. Obama signed the Federal Aviation Administration's Modernization and Reform Act, paving the way for widespread drone use to soon be rampant in US airspace. The FAA expects that as many as 30,000 non-military UAVs will fly through US sky by the end of the decade.
Oddly enough, Obama's authorization of that FAA bill may likely be the only thing the president's done as of late that Sheriff Arpaio is in favor of. The lawman previously helped wage a campaign to investigate the president's birth certificate, and Arpaio has been an adamant opponent of the administration's efforts with regards to immigration. Speaking to ABC15, Arpaio said he'd be interested in using unmanned drones to spy on drug peddlers coming in from the nearby US border with Mexico.
"No, we may use them go find dope peddlers coming into the United States, we make many drug seizures, we're only 70 miles from the border," said Arpaio. "But we are not going out to look at people coming into our country thinking they may be here illegally."
Earlier this year, Judge G. Murray Snow of the US District Court ruled that Arpaio's office unlawfully targeted Latinos during law enforcement operations and "incorporated race as a consideration."
You can share this story on social media: