Army vet and 50-year US resident seeks re-entry after 'shameful' deportation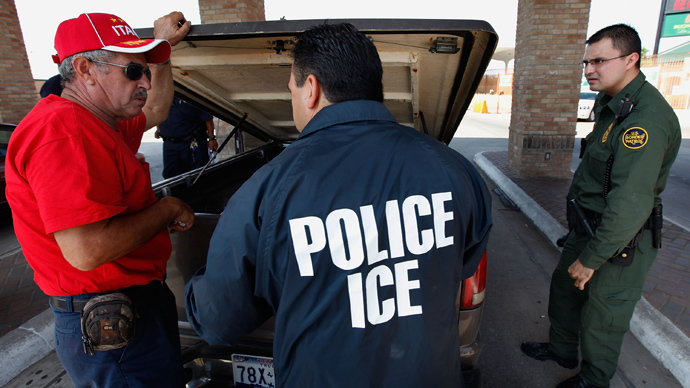 An Army veteran who overcame a crippling drug addiction and lived in the US for over half a century is now fighting his deportation, saying his minor criminal record should be overlooked because of his military service.
Attorneys representing Arnold Giammarco say he was deported to his native Italy in November 2012 because of larceny and drug possession convictions. Arguing in federal court on Tuesday, he is now attempting to reverse that deportation, claiming that immigration authorities failed to act on a citizenship application filed in 1982. 
Giammarco lived legally in Connecticut for much of his time in the United States. He served in the US Army from 1976 to 1979 and in the National Guard from 1980 to 1983. 
The 57-year-old slipped into drug addiction after his time in the military. He served brief stints in prison in the 1990s and again in 2007 for shoplifting and drug possession. Giammarco was homeless for a time, but says he has left drugs behind, found steady work, and became a father in 2008.
His attorneys told AP that in previous years, US Immigration and Customs Enforcement (ICE) refused to deport veterans except in extenuating circumstances. That policy has now fallen out of favor, according to the lawyers.
"I think it's a shameful thing for the United states to take a man who has lived lawfully in this country for 50 years, who's raising a family, who's working productively, who volunteered for the armed, served honorably," said Yale law professor Michael Wishnie. He, along with his students, is attempting to help Giammarco. 
"It's a shameful thing to deport him based on minor non-violent criminal convictions. It's a departure I think from our historic treatment of veterans," Wishnie added.
Giammarco's grandfather served in the US Army during World War I but returned to Italy, where his family is originally from, upon being wounded in combat. Giammarco came to the US with his parents at age four. He and his wife were married on July 4, 2010 – the fiftieth anniversary of his arrival in the states.
But Giammarco was arrested less than one year later, approached by an armed Homeland Security agent while speaking with his sister on the phone. He was held in a Massachusetts jail for 18 months before being sent to Italy. 
"It was just a big nightmare," Giammarco told AP in a telephone interview, adding that he has not been allowed to touch his young daughter and has missed each of her birthdays since being taken into custody in 2011. 
"She said, 'Daddy, I'll save you a piece of cake.' That just broke my heart…I just wait for a day to hold my daughter again in the country that I love."
The deportation was especially surprising as the veteran's trouble with the law has been well-documented. 
"Arnold was on parole and probation for years," his sister-in-law Amy told AlterNet. "There was a very long period of time that the United States Court System allowed him – encouraged him, required him – to get his life together and start flying right. They released him from jail and allowed him to go out and create a whole lot worth losing.
"They set him free and told him to go build a life," she continued. "He repaired and rebuilt long-ago damaged family ties. He got married and had a daughter. He even paid a visit to the immigration building after he lost his green card, they gave him a new one. No one even hinted that there might be a problem with his resident status."  
Despite ICE's claim that the agency is "very deliberate" in reviewing individual immigration statuses, the case has slowly attracted international media attention. Giammarco's wife, Sharon, started a petition for her husband on Change.org that has attracted over 3,000 signatures. 
"He struggled with addiction and beat the odds, turning his life around for his wife and little girl, from whom he has been separated for the past two and a half years," Sharon Giammarco wrote. "We have reopened this petition after the Yale School of Law chose to represent Arnold and try to bring him home. They recognized the injustice, and we are asking for your support to show our state and federal government that we recognize it too."
You can share this story on social media: