US soldier who fought in Syria could get the death penalty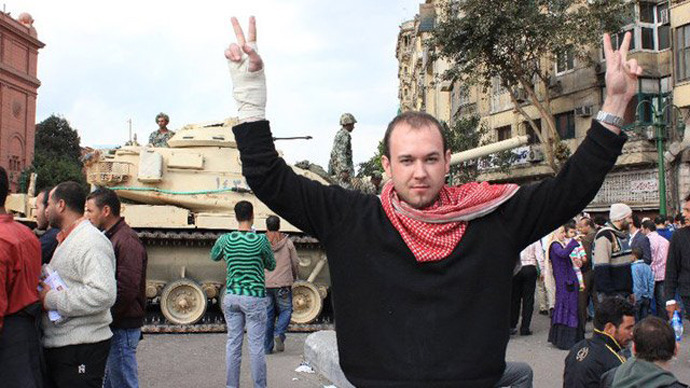 Federal prosecutors could seek the death penalty for a 30-year-old American man who took up arms to fight against the army of Syrian leader Bashar al-Assad.
At a court hearing in Alexandria, Virginia on Monday, prosecutors said Eric Harroun of Arizona could be sentenced to death if convicted of using a weapon of mass destruction with deadly force. Now the FBI will try to determine if Harroun, a retired US Army private first class, killed any soldiers in the line of battle.
"Any national of the United States who, without lawful authority, uses, or threatens, attempts or conspires to use, a weapon of mass destruction outside of the United States shall be imprisoned for any term of years or for life, and if death results, shall be punished by death, or by imprisonment for any term of years or for life," reads the terrorism law that Harroun now faces.
American authorities arrested the soldier late last month after he told FBI agents during a series of interviews in Turkey that he took up arms to fight against Assad, an enemy of the US and the target of a growing opposition movement in Syria.
"It is extremely unusual for the US to charge a person who is fighting in a manner that is aligned with US interests," public defender Geremy Kamens told reporters after Monday's hearing outside Washington, DC.
Investigators say Harroun traveled overseas back in January with the aim of assisting the Free Syrian Army, the main rebel group going up against President Assad in the nation's bloody civil war. But while Harroun ultimately ended up fighting in skirmishes that had him going up against pro-Assad regimes, it wasn't with the Free Syrian Army.
Harroun says he arrived in Turkey earlier this year, then crossed an international border and befriended opposition soldiers engaged in a fight with Assad's forces. In lieu of joining the Free Syrian Army, however, Harroun aligned with another opposition group striving for the same goal. Unfortunately for the American, he ended up fighting alongside the al-Nusra Front, a branch of al-Qaeda in Iraq that was formally declared by the US as a terrorist organization in December.
Harroun tells investigators that he "hates" al-Qaeda and was actually held as a hostage by the group after he hopped on the back of a Jabhat al-Nusra truck following a battle. Court papers attest that Harroun was treated like a prisoner at first by the militia, and eventually gained the trust of the soldiers to the degree that they asked him to join in firefights. Nusra Front fighters also urged the US Army private first class to become the organization's English-language spokesman, an offer he declined.

According to an interview conducted between a CBS affiliate at the soldier's father, Harroun might have even engaged in patriotic missions overseas. "I know he was doing some work for the CIA over there,"  Darryl Harroun said. "I know for a fact that he was passing information onto the CIA."

But if the soldier engaged in battle against America's enemies, though, working alongside al-Qaeda to do as much could cost the soldier his life — Harroun could be sentenced to die from lethal injection if prosecutors can prove he used grenade launchers to kill in battle.
The fact that Harroun "knowingly aligned himself with al-Qaida," said prosecutor Carter Burwell, "is perhaps one of the gravest threats to national security that the US government can countenance." Magistrate Judge Ivan D. Davis added that Harroun "actively and knowingly participated in fighting with a group the US has designated as a terrorist organization."
"There is no stronger case than the defendant's own confession," Davis said.
The BBC reports that Harroun told the FBI that he shot at 10 people in Syria, but was unsure of what damage he might have caused. After his interviews in Turkey, he flew to the States in March and was arrested by the authorities. He remains in federal custody in Virginia awaiting trial.