US charges former American soldier for conspiring with Syrian terrorist group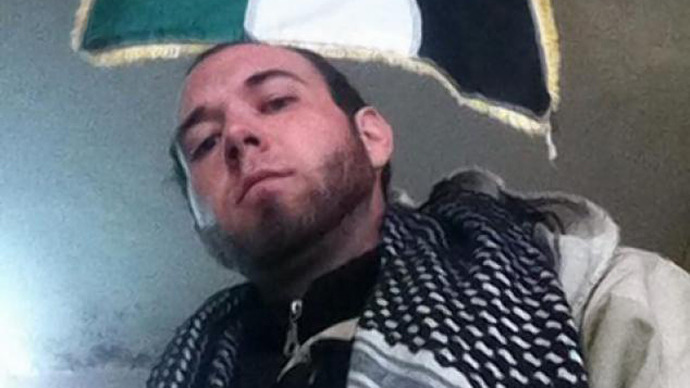 The FBI has charged Eric Harroun, a 30-year-old former US Army soldier, with conspiring to use a rocket-propelled grenade - which it considers a "weapon of mass destruction" - on behalf of a foreign terrorist organization.
In this case, the terrorist-designated group is the al-Nusrah Front, which has been actively engaged in insurgency against the Syrian government. Information filed by the FBI in its case against Harroun briefly touches on the group's history of name changes, though it is often referred to by the US as "al Qaeda in Iraq."
The manner by which Harroun came to be considered in the service of a foreign terrorist group spans several years, and the affidavit filed by the FBI is, rather ironically, based on information he willingly posted via Facebook, as well as in voluntary interviews with the FBI at the US Consulate in Istanbul, Turkey.
Harroun first came to some public fame after a video entitled "American Fighter Vows Death to Assad" appeared on a news website and showed Harroun (also identified as "US Mujahid" in other versions) alongside purported members of al-Nusrah.
According to testimony supplied by Harroun to the FBI, he traveled to Turkey in November of 2012 and shortly thereafter entered Syria, where he sought to join up with the Free Syrian Army in its fight against the Assad government. Unfortunately for Harroun, the US government's classification of the al-Nusrah Front, the group he found himself fighting alongside and which is largely composed of non-Syrians, likely began making officials nervous.
One interesting detail included in the FBI's affidavit include questions over Harroun's views on Zionism during a March 2013 interview, and his comment that "the only good Zionist is a dead Zionist."
It seems clear that the FBI had been attempting to ascertain to what extent Harroun was involved with the combatant group in Syria, and whether he was becoming radicalized. Though his interviews with the bureau in Turkey did not seem to indicate any support of al-Qaeda or radical Islamism, he did comment on training he received by members of al-Nusrah on the use of rocket-propelled grenade launchers, and admitted firing such a device on at least one occasion while in Syria.
Harroun has made his first federal court appearance in Virginia, and if convicted faces a maximum sentence of life imprisonment.

You can share this story on social media: