Meth labs move from rural areas to US cities
Published time: 28 Dec, 2012 20:20
Edited time: 29 Dec, 2012 00:21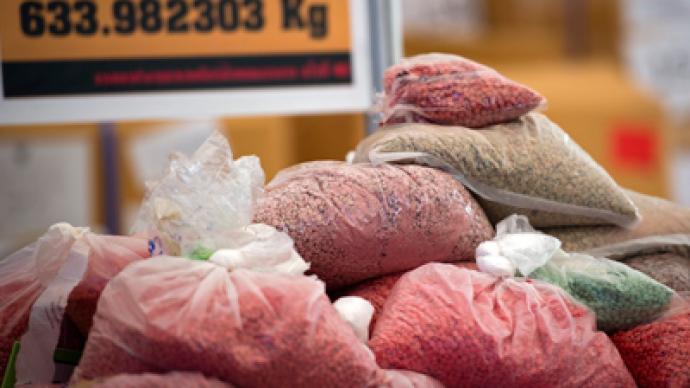 Methamphetamine lab seizures are on the rise in US cities and suburbs as makers of the lethal drug have been moving their now-portable labs into more populated areas and increasing production.
Methamphetamines used to be produced most frequently in rural areas, where abandoned buildings and farmhouses offered an ideal location for a hidden lab. With fewer authorities to combat the problem and wide open spaces that makes it difficult to find rural meth labs, the drug makers more often chose to operate production from the countryside. Anhydrous ammonia, a key ingredient in producing meth, can also be found more frequently in rural areas, since farmers use the chemical as fertilizer.
But a rise in portable labs has made it easier for meth makers to move to US cities and suburbs, especially since the portable labs lack the odor that once forced the drug makers to the countryside. The deadly drug can now be made in someone's car using a bottle of soda. This 'shake-and-bake' method produces the drug in smaller quantities, but doesn't make production any less dangerous: the chemical reaction can still cause a large explosion, even if it is produced in container as small as an empty water bottle.
With easily accessible recipes on the Internet and cheap ingredients available in many US stores, more people have begun to produce their own meth. Cold pills, battery acid and drain cleaner are some of the substances required to produce the lethal drug.
"Bad guys have it figured out," Rusty Payne of the federal Drug Enforcement Agency told the Associated Press. "You don't have to be as clandestine – you don't have to be in rural country to lay low."
AP found meth lab seizures had increased in a number of cities, including St. Louis, Kansas City, Nashville and Evansville. Inner city gangs have also become involved in meth production and distribution, which they previously had little involvement with when the drug was primarily produced in rural America.
"No question about it – there are more labs in the urban areas," said Tom Farmer, coordinator of the Tennessee Methamphetamine and Pharmaceutical Task Force. "I'm seeing car fires from meth in urban areas now, more people getting burned."
Drug makers who are producing purer and less expensive versions of meth are also bringing labs into the US from Mexico.
In St. Louis County, lab seizures increased from 30 in 2009 to a predicted 142 in 2012. In Jackson County, Mo., which includes Kansas City, seizures have increased from 21 in 2009 to about 65 this year. In Nashville, the numbers have tripled in just two years, while Evansville saw a 500 percent increase.
And with a rise in meth production comes a rise in meth addicts: Users from all socio-economic levels have begun to use the drug.
"Lower class all the way up to middle class," St. Louis County meth detective Ed Begley told AP. "We've even had retired folks who have become addicted. It's a brutal drug."