Philippe Starck's next monumental design: a new Apple TV?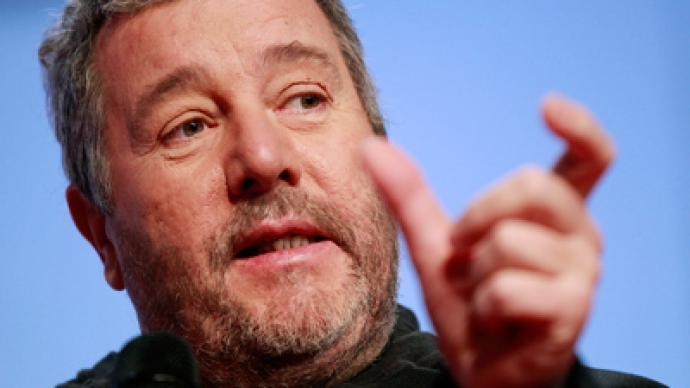 Apple is expected to unleash a product before the year's end unlike anything they've ever released, and world renowned designer Philippe Starck has confirmed that he has been working close with the company on the item for the last eight years.
He's done everything from department stores and toothbrushes to computer speakers and sporty motorcycles. The next big gig for Philippe Starck will be for Silicon Valley legends Apple, though, but neither party is publicizing what exactly the endeavor will involve. Starck states in an interview with France Info radio that the "religious cult of secrecy" that surrounds Apple will keep him from coming clean on the details for now, but says the project is "quite revolutionary . . . if not very."So far the only thing set in stone is Starck's insistence that — whatever it is he is working on — will be a game changer for the computer kings. Over his claims that the product will be "revolutionary," speculators have already been driven to suggest that the legendary designer is readying an end-of-the-year revamp of Apple TV, or perhaps another piece of machinery unmatched by anything already manufactured by the company.Only further perpetuating the rumors of surrounding a Starck and Apple collaboration are details uncovered earlier this year about a patent filed by the computer giants. While talks have persisted putting a new Apple TV on the market during 2012, the website AppleInsider noted that the United States Patent and Trademark Office earlier this year approved paperwork that would give Apple the rights to a new method of television episode organization. Reporting on the published patent information, AppleInsider wrote in January that "the diagram displays shows and dates which could mean that the company is looking to include a recording or cloud-based on-demand feature in the future.""This would jibe with what Jobs envisioned of a TV that 'seamlessly synced with all of your devices and with iCloud,'" adds the site.Aside from desktop, laptop and tablet computers, Apple has already revolutionized the tech world by releasing some of the most cellular phones and music players available. Apple has also spent the last few years trying to take on the medium of television, and although they have succeeded to a certain extent so far, they have yet to revolutionize that industry with the same contributions it has made with personal computing and mobile technology. Talk has persisted since Apple founder Steve Jobs passed away last year though that all of that could soon change.In the biography of Jobs released after his last year by writer Walter Isaacson, it was noted that the Apple guru had figured out a way to make a marketable television by Apple unlike anything already available. Isaacson wrote that Jobs was working hard at readying a new model for television before his death last year, saying in the biography, "He very much wanted to do for television sets what he had done for computers, music players, and phones: make them simple and elegant.""I'd like to create an integrated television set that is completely easy to us," Isaacson wrote he recalls Jobs telling him. As AppleInsider recalls as well, Jobs had stated that the device would be able to link data from multiple devices into an Internet cloud and onto the television."No longer would users have to fiddle with complex remotes for DVD players and cable channels," added Isaacson. According to Jobs, "It will have the simplest user interface you could imagine."No news circulated since the publishing of the book last year, in which Isaacson claims Jobs declared "I finally cracked it," when discussing his progress on the product. Now with the news that one of the world's most celebrated designers is teaming up with the Apple crew, rumors are quickly developing that put Starck as the stylist behind a new television."For 7 years I came to Palo Alto to see him once a month, and I'm going back Monday, because even though he's dead now I visit his wife. We liked to talk about interesting things," Starck adds to France Info about his relationship with Jobs and company.
You can share this story on social media: