Anonymous launches new operation demanding justice for raped and murdered toddler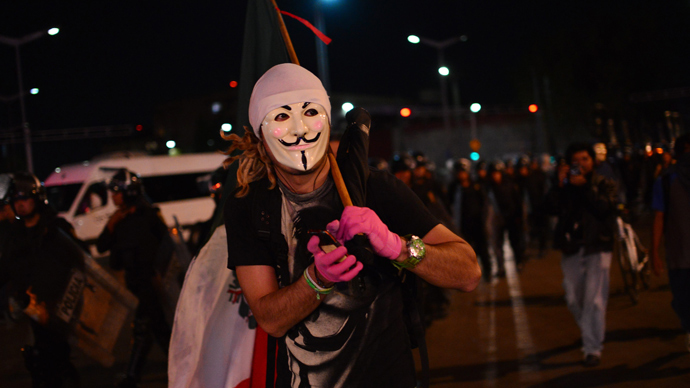 Members of the internet-based collective of vigilante pranksters known as Anonymous have rekindled a campaign intended to get prosecutors in Arizona to re-open charges against a couple suspected of sexually abusing and killing a two-year-old girl.
The leaderless and largely considered loose-knit group of activists announced on Thursday that they'll be further pursuing a call-to-action campaign first launched last month in an effort to raise awareness of the case of Savannah Cross, a toddler who died in December 2012 while in the custody of a couple who had been caring for her for months. According to court documents, the couple was being compensated for their child care services for nearly half a year upon the apparent direct of a disinterested young mother and nurse, Ashley Dattoli Livengood, when paramedics were deployed to their residence just shy of last Christmas. Cross was taken to a hospital in a severely bruised state and later pronounced dead.
Authorities would go on to charge the babysitting couple, Allison Clement and Ryan Reed, with child abuse and murder counts, though a Maricopa County, AZ judge dismissed the charges in September after prosecutors were unable to deliver in time an autopsy and other test results ordered by the court.
Reed, then 27, told investigators shortly after the incident that he abused the young girl, and Clement, who was 28 at the time, acknowledged to authorities that she was aware of the neglect. A probable-cause statement within court documents obtained by the Phoenix News Time says the medical staff who attempted to save the girl's life "described the bruises as 'too many to count'" and "could not have been caused by a single traumatic event." Reed admitted to disciplining the girl, including on the night of her death, by slapping her and stomping on her, and court filings cited by the paper suggest the child was sexually abused before her death as well.
And though evidence abounds, a budget shortfall and communication snafu between the parties involved has ensured neither Clement, Reed nor Livengood have been held accountable for Cross' death. In September, Arizona's The Republic reported that the couple were let off the hook after prosecutors offered Judge Warren Granville the option of dismissing the case because they couldn't produce forensic reports about Cross' death in time.
"The Medical Examiner's Office said the complexity of child-abuse homicide investigations, the office's high caseload and low staffing levels all contributed to the delayed report, which an out-of-state lab is completing," JJ Hensley wrote then for The Republic.
After an attempt by Anonymous to raise attention to the matter last month fell largely on deaf ears, a new statement attributed to individuals identifying with the collective surfaced on the web Thursday in which they call for immediate justice.
"To the media of Maricopa County, the state of Arizona, the United States and the world, you can not continue to ignore this," the statement reads. "This is a child in your community, a child in your city, a child in our country. If you don't stand up for her, then who will? If not now, then when? There is nothing more important than seeking justice for an abused and murdered child. Step up to the plate and bring this horrendous story the attention it deserves."
"Anonymous reiterates our demand that the Maricopa County Medical Examiner's Office stop playing budget politics with this case and get your job done so the County Attorney can re-file charges forthwith," they warn elsewhere in the statement uploaded to the memo-sharing site Pastebin this week. "You have had more than enough time. If the lab is the problem, then get on the telephone and fix the problem. Your seeming ineptitude is criminal in its own right."
"OpJustice4Savannah continues to be engaged," Anonymous warns, but not without cautioning the Phoenix VA Hospital where Livengood works to reconsider her employment.
"You need prove no misconduct to terminate her employment. Our Nation's veterans deserve far better than to be 'cared' for by this uncaring monster who reportedly told co-workers she would 'see her when I see her' regarding Savannah."
The group goes on to give the hospital one week to release Livengood, and warns that a response in the form of a major demonstration could result from their refusal to cooperate.
"If you want protests on your campus, continue to ignore this demand. We will not ask again," Anonymous writes. The New Times in Phoenix published Anonymous' claims on Thursday with a headline acknowledged that the group prepared to protest at Livengood's place of employment.
Cathy Cross, Savannah's grandmother, told The Republic in September that she was hopeful that Reed and Clement would again be charged.
"The wheels on the bus turn slow, but that is no reason to overlook a grand-jury indictment just because it's inconvenient for them to be sitting in jail," Cross said. "I hope every night when they close their eyes they're going to hear Savannah cry and moan in pain like she wailed all night long the night before she died."
Until then, however, Anonymous has taken the reigns of the campaign, but if history is any indication then they have a very likely chance of raising awareness of their "Justice4Savannah" campaign to such a degree that authorities will listen. Although Anonymous is often associated in the media for alleged operatives' role in various high-profile hacks, including many targeting government, law enforcement and corporate entities, their morally-driven campaigns have been quite successful as of late. Just last month a prosecutor in Missouri said he'd re-open a rape case against the group propelled the story to all corners of the Web, and similar successes have accompanied the group's efforts during the last several months.
Anonymous says in their statement that they could take action off the Web and on the streets as early as next Thursday.
You can share this story on social media: