More Americans take Israel's side over Palestinians' as Obama heads to Middle East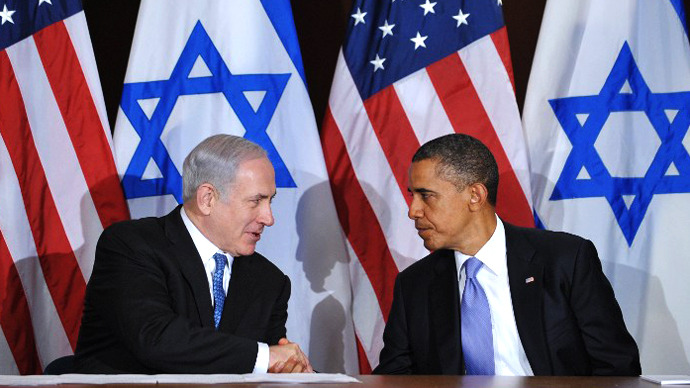 New data shows that 55 percent of Americans sympathize with Israel over Palestine, while only 9 percent side with Palestine. But despite the stark preference for the Jewish nation, 70 percent of Americans wish the US would stay out of the conflict.
Thirty-six percent of respondents in the ABC News / Washington Post poll said they were undecided or favored neither country. But of those who picked a side, 86 percent chose Israel over Palestine, confirming the stark preference that has existed since similar questions were first asked in the 1980s.
But despite 64 percent of respondents siding with a country, two-thirds said they do not want the US to have a leading role in the conflict. And of those who had no preference, 70 percent said the US should stay uninvolved.
A second poll, published on Friday by Gallup, is consistent with the findings of the one conducted for ABC News. Gallup found that 64 percent of Americans sympathize for Israel, which is up from the 60 percent who said so in 2010 and is "the highest-recorded in a quarter century". Only 12 percent of respondents said they sympathized more with Palestine.
And Israeli sympathy has been on the rise: since Gallup first asked the question in 1988, there has been a steady increase in preference for Israel and a steady decrease in those who had no opinion or favored neither side.
The results come as US President Barack Obama prepares for his visit to Israel, Palestine and Jordan on Wednesday.
But despite Americans' preference for the Jewish state, the feelings are one-sided. Israeli sympathy for Americans has gradually declined. Many blame President Obama for failing to keep up the relationship with Israel. For example the president did not sit down with an Israeli journalist until July 2010.
In 2009, the Jerusalem Post reported that only 4 percent of Israeli Jews viewed Obama as more pro-Israel, while 51 percent believed he was pro-Palestinian. Jennifer Rubin of the Washington Post says that Israelis are surprised that such a pro-Israel country elected a president who "they see as hostile to them".
But as Obama visits Palestine and Israel this week, most Americans hope for him to stay out of the conflict.
"When it comes to US involvement in the peace process, there's agreement across religious, partisan and ideological groups (from 66 to 70 percent) that the two sides should handle negotiations themselves," the ABC report states.
You can share this story on social media: