IDF arrests brother of hunger-striking Palestinian detainee – reports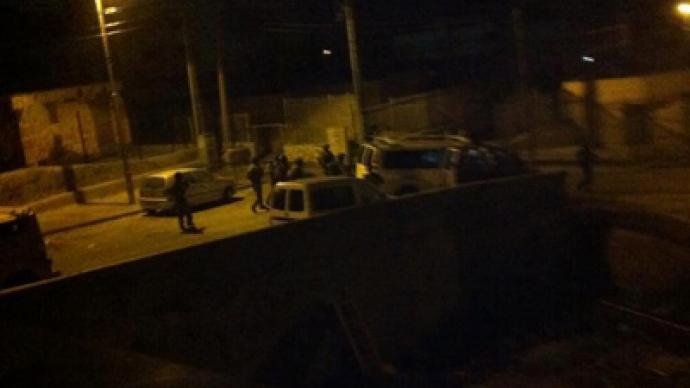 The Israeli army has reportedly raided the house of a Palestinian detainee, Samer Issawi, arresting his brother. This comes in the wake of violent clashes during the recent rally in support of the man who had been hunger-striking for over 200 days.
The Israeli Defense Forces have reportedly raided the house of Samer Issawi's family in the al-Issawiya neighborhood of East Jerusalem at around midnight GMT. Activists on twitter claimed that Issawi's brother Shadi had been arrested and released photos and video of the alleged incidentSo far, with no official comment on the raid, the reports could not be independently verified.
VIDEO: Israeli Occupation Forces storm the home of Palestinian hunger striking prisoner Samer Issawi and arrests… fb.me/1eG2y7HaZ

— Samer Issawi (@samerissawi1) February 17, 2013
On Friday a major rally outside Ofer prison in the West Bank in support of prominent prisoner Samer Issawi ended with a violent fight between the Israeli military and Palestinian protesters. According to Israeli officials some 500 Palestinians attacked soldiers with rocks forcing them to respond with tear gas and rubber bullets. Two Israeli soldiers were slightly injured, the military said.Palestinian medics reported wounds sustained from rubber bullets and said dozens of people suffered gas inhalation.Also a number of people were reportedly injured in at least three separate clashes as violence spread across the West Bank.
35-year-old Samer Issaawi was initially serving time for alleged terror activity and released in 2011 in a prisoner exchange. In July 2012 he was arrested again over a suspected violation of the terms of his release as he was not allowed to leave Jerusalem.He has been on hunger strike since the end of July, under medical supervision and eating periodically, Israeli Prison Service spokeswoman Sivan Weizman claimed.Issaawi's sister however said he has only been drinking water since January while the prison occasionally takes him to an Israeli hospital for treatment.Currently four prisoners held by Israel are on hunger strike, according to the Palestinian minister of prisoner affairs, Issa Qaraqe. In 2012 hundreds of Palestinian prisoners forced prison system into concessions by going on hunger strikes.In response to the hunger strike, the EU has called on Israel to improve prison conditions for incarcerated Palestinians."The EU calls on the government of Israel to allow for the immediate restoration of their family visiting rights and calls for the full respect of international human rights obligations towards all Palestinian detainees and prisoners," EU foreign affairs chief Catherine Ashton said, adding she was "concerned" with the worsening health of the four prisoners on hunger strike.
A spokesperson for the Israeli Prison Service assured the press that the strikers were in "good condition" and were receiving medical care. However, she stressed they lost the right to family visits when they embarked upon their protest.
You can share this story on social media: