Americans obsessed with royal wedding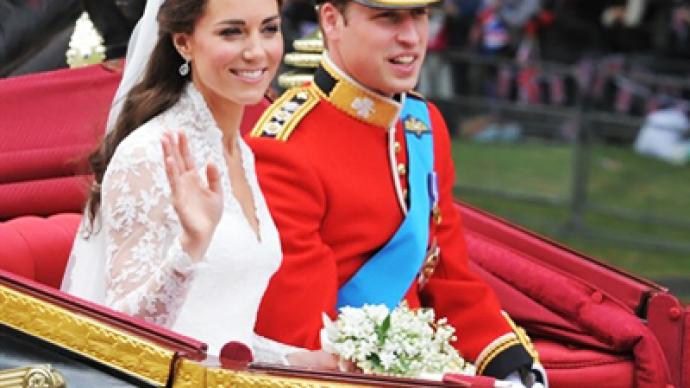 'Twas the morning of the Royal Wedding and all through DC, hundreds and hundreds sat glued to TV.
Americans threw their hearts—and hats—into the British Monarchy in Washington this morning for the marriage of Kate Middleton and Prince William, scooping up memorabilia, fêting the royals and living the experience from the other side of the pond. "They're not our royals and it's not happening here and we have to get up at 3:30 in the morning so why are we doing this," said Richard Olson, who attended the Ritz Carlton's Viewing Party in Washington. "But you'll always remember that picture of the princess riding in the carriage." "Nobody does spectacle like the English, this is something that we would never ever do here," said David Humphrey of Virginia. The Ritz is also offering couples the chance to recreate the Royal Wedding for themselves with Washington's high end jewelry and bridal vendors—to the tune of a few million dollars. "The lucky couple who chooses this package will get the ultimate royal wedding where we will actually take the entire hotel, the hotel will be yours for a weekend, we will actually recreate Westminster Abbey for your ceremony, we are going to recreate Buckingham Palace for your dinner," said Kelly Jenkins, owner of Capitol Décor and Events. Others said they have waited for this day since Diana Spencer married Prince Charles nearly three decades ago."It's such a fantasy to be a commoner and come out of this as a princess and a royal, and it's just special," said Lynn Clark of Maryland. "We watched the boys grow up from babies and watched what they went through when they lost their mom and we sort of took ownership of them," said Joan Rohrbaugh of Georgia.Christopher Chambers, a journalism lecturer at Georgetown University explained the US media fascination fits a new pattern of American media – real news takes a backseat. This is not new; the media has flocked to royal events for some time dating back to the Queen's coronation in 1952."It's really Marketing," he said, explaining ratings are the goal. "This is an opportunity to mobilize and put in place saturation coverage, generate ratings and distract from other problems."Chambers explained that media outlets can market to the US audience who get into the celebrity and pomp and circumstance of the events – in addition to a generational Disney princess obsession. "These are marketing opportunities for certain demographics," he reiterated. "That's certainly a lot of buying power."People need and enjoy fantasy in their lives, he said, but when the media concentrates too much on fantasy true problems and global issues are often ignored.
Mark Oppenheimer, the author of "Wisenheimer: A Childhood Subject to Debate" said he feels there is something wrong about Americans becoming so obsessed with a monarchy.He argued Americans fought to overthrow a monarchy in their revolution and it is disgraceful that they are now fawning over British royals.But, nevertheless the US media has recognized American fascination and jumped on board. "They have decided that this is where the ratings are," he said. "I'm a realist about this."
You can share this story on social media: