Americans overwhelmingly support Iran nuclear deal - poll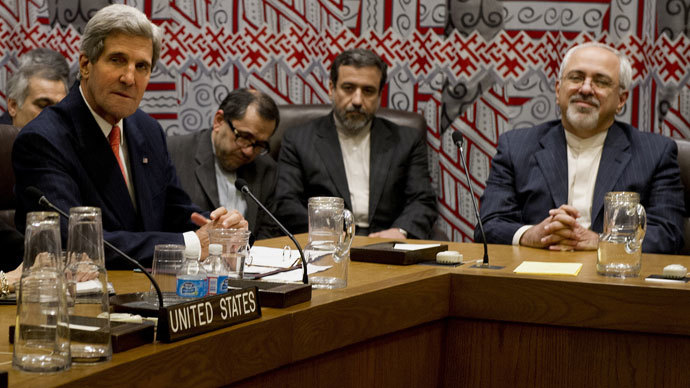 By a margin of 2-to-1, Americans support the nuclear deal struck with Iran over the weekend. In addition, Americans are strongly against using military force should Tehran renege on the agreed terms, a Reuters/Ipsos poll revealed Tuesday.
According to the survey, 44 percent of Americans support the interim deal signed by Iran and the P5+1 powers: US, Russia, UK, France, China, Germany and the European Union. Twenty-two percent oppose the deal.
Under the deal struck on Sunday night, Iran agreed to freeze its nuclear program for the next 6 months and cease construction work on the Arak reactor. In addition, Tehran agreed to stop enriching uranium beyond 5 per cent in a bid to allay fears that it seeks to construct a nuclear weapon. In return, sanctions on Tehran's economy will be lightened, allowing Iran access to $4.2 billion in funds frozen as part of financial sanctions.
Though Americans didn't indicate trust in Iranian intentions, the survey showed Americans are not interested in new US military involvement after long wars in Iraq and Afghanistan.
Even if the deal doesn't hold, 49 percent said they want the US to increase sanctions on Iran, and 31 percent want further diplomacy. Only 20 percent want to use military force against Iran.
Congress, for its part, has already demonstrated appetite for further sanctions on the country. The House of Representatives has moved forward legislation that would increase pressure on Iran, though Senate Majority Leader Harry Reid has said the Senate will not take up the issue until after the legislature's Thanksgiving break.
Israeli Prime Minister Benjamin Netanyahu has already condemned the nuclear deal, saying the world has become a more dangerous place. 
"What was achieved last night in Geneva is not a historic agreement, it was a historic mistake," Netanyahu told his cabinet Sunday. "Today the world has become a much more dangerous place because the most dangerous regime in the world took a significant step towards obtaining the world's most dangerous weapon.
"Israel is not committed by this agreement," Netanyahu said. "The regime in Iran is committed to destroying Israel. [But] Israel has the right and obligation to defend itself from any threat, [and] will not allow Iran to develop a military nuclear capability."
Netanyahu said that the international community had actually "agreed for the first time to uranium enrichment in Iran, while ignoring Security Council resolutions that they themselves promoted."
US Secretary of State Kerry assured Israel will be safer over the next six months due to the agreement reached in Geneva.
Though "Israel is threatened by what has been going on in Iran," the deal will keep the Islamic Republic's nuclear program under supervision and control, said Kerry.
"But I believe that from this day - for the next six months - Israel is in fact safer than it was yesterday because we now have a mechanism by which we are going to expand the amount of time in which they (the Iranians) can break out (toward making a nuclear bomb)," he told CNN Sunday.
The Reuters/Ipsos online poll, conducted from Sunday through Tuesday with 591 respondents, has a credibility interval of plus or minus 4.9 percentage points.
You can share this story on social media: