'Historic mistake': Netanyahu says world is 'more dangerous place' after Iran deal
Israeli Prime Minister Benjamin Netanyahu has slammed the international deal over Iran's nuclear program, branding it a "historic mistake." He accused the P5+1 of allowing Tehran a step further "towards obtaining the world's most dangerous weapon."
Netanyahu condemned the deal at a cabinet meeting on Sunday and said the world has become a more dangerous place.
"What was achieved last night in Geneva is not a historic agreement, it was a historic mistake," Netanyahu told his cabinet. "Today the world has become a much more dangerous place because the most dangerous regime in the world took a significant step towards obtaining the world's most dangerous weapon."
"Israel is not committed by this agreement," Netanyahu told his Cabinet. "The regime in Iran is committed to destroying Israel. [But] Israel has the right and obligation to defend itself from any threat, [and] will not allow Iran to develop a military nuclear capability."
Netanyahu said that the international community had actually "agreed for the first time to uranium enrichment in Iran, while ignoring Security Council resolutions that they themselves promoted."
He also reiterated that military action against Iran was possible, but Civil Defense Minister Gilad Erdan warned that the Geneva deal "makes it much more difficult in the diplomatic sphere to talk about a military option."
Israel has never publicly acknowledged that it has nuclear weapons, but is widely believed to be the only power possessing the atomic bomb in the Middle East. It has consistently called on the international community to strip Iran of its nuclear enrichment capabilities.
Israeli Foreign Minister Avigdor Lieberman told Sunday's Cabinet meeting that the Geneva accord was Tehran's "greatest diplomatic triumph" since the Islamic Revolution of 1979.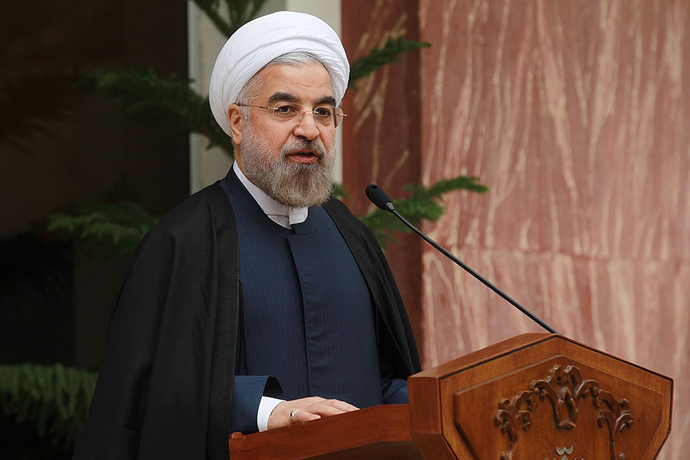 US President Barack Obama spoke by phone with Netanyahu on Sunday to address Israel's concerns about the Iran nuclear deal, the White House announced.
"Consistent with our commitment to consult closely with our Israeli friends, the President told the Prime Minister that he wants the United States and Israel to begin consultations immediately regarding our effort to negotiate a comprehensive solution," White House spokesman Josh Earnest said. "The President underscored that the United States will remain firm in our commitment to Israel which has good reason to be skeptical about Iran's intentions."

Earlier on Sunday, US Secretary of State John Kerry said that the deal between Iran and major world powers would make it more difficult for Iran to make a dash to build a nuclear weapon, and would make Israel and other American allies safer.

Under the deal struck on Sunday night by the P5+1, Iran agreed to freeze its nuclear program for the next 6 months and cease construction work on the Arak reactor. In addition, Tehran agreed to stop enriching uranium beyond 5 per cent in a bid to allay fears it seeks to construct a nuclear bomb. In return sanctions on Tehran's economy will be lightened, allowing Iran access to $4.2 billion in funds frozen as part of the financial sanctions.

Gulf States 'lose sleep' after Iran nuclear deal
A foreign policy adviser to the Saudi Arabian government, speaking to Reuters on condition of anonymity, said that Sunni Arab states do not welcome the Geneva nuclear deal. So far, Riyadh has made no official response.
Just hours before the Geneva deal was signed, the rulers of Saudi Arabia, Qatar and Kuwait met late Saturday night to discuss "issues of interest to the three nations," Reuters reported.
Abdullah al-Askar , the chairman of Saudi Arabia's Shura Council, an advisory body to King Abdullah, said that Tehran had "an ugly agenda in the region" and expressed concern that Iran could seek to gain the upper hand in regional politics in return for mothballing its nuclear program.
"I am afraid Iran will give up something on [its nuclear program] to get something else from the major powers in terms of regional politics. And I'm worrying about giving Iran more space or a freer hand in the region," al-Askar said, adding that the people of the region "know Iranian policies and Iranian ambitions" and are afraid that Tehran might "interfere in the politics of many countries in the region."
"No one in the region will sleep and assume things are going smoothly," al-Askar said.
"I think Saudi Arabia will go ahead if Iran goes ahead [and gets a nuclear weapon]," he said. "I think Egypt, maybe Turkey, Saudi Arabia, maybe the Emirates, would go ahead and acquire the same technology. This will open wide the door to weaponization."

Intelligence Minister Yuval Steinitz, in charge of monitoring Iran's nuclear program, has said there is no reason for the world to be celebrating.
He says the deal that was reached in Geneva on Sunday is based on "Iranian deception and self-delusion."

You can share this story on social media: