Iran deal closer? Top diplomats gather in Geneva for nuclear talks
P5+1 and Iranian foreign ministers and the EU's chief diplomat are holding intensive talks in Geneva struggling to overcome differences to hammer out a much-anticipated deal on Iran's nuclear program.
It remains unclear if Iran and the P5+1 powers will reach a deal on Saturday, said Iran's Deputy Foreign Minister Abbas Araqchi as quoted by Fars news agency, adding that the "dispute is over the wording."
"The foreign ministers of the six countries are going to have a meeting together... We will decide about the continuation of the negotiations" after the meeting on Saturday, Araqchi told Mehr news agency.

Russian Foreign Minister Sergey Lavrov was the first to arrive in Geneva on Friday evening. Lavrov held bilateral meetings with Iranian Foreign Minister Mohammad Javad Zarif and EU High Representative for Foreign Affairs and Security Policy Catherine Ashton. Didier Burkhalter,head of the Swiss Federal Department of Foreign Affairs, joined the talks on Saturday. Details of the meetings were not disclosed.

On Saturday the Russian Foreign Minister met US Secretary of State John Kerry, as well as French and Chinese foreign ministers.
"Lavrov specifically stressed that for the first time in many years the six world powers and Iran have a real opportunity to reach agreement," the Russian foreign ministry said in statement Saturday.
Russia's deputy foreign minister Sergey Ryabkov blamed the western media for presenting "rather one-legged comments" on the talks and trying to blame the Iranian delegation for the lack of a break through.
He also called for a media blackout during the negotiations.
"Any negotiations, especially on such a sensitive issue as settlement of the Iranian nuclear program, require silence from the media," Ryabkov said Saturday.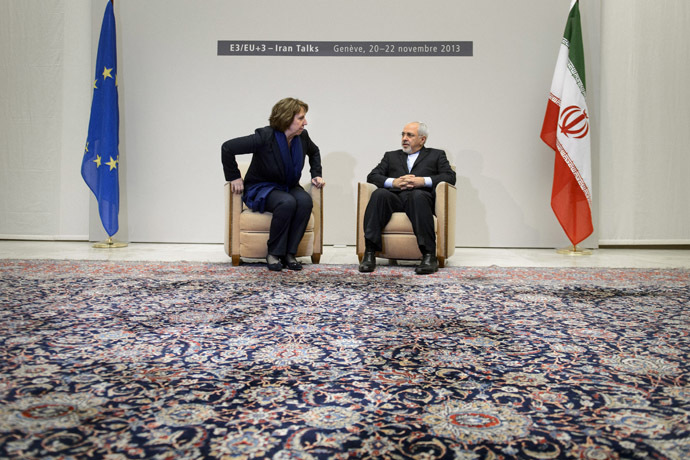 The EU's delegation sounds cautiously optimistic. "You cannot suddenly get an agreement overnight… So I do not think that anyone should panic," Ashton's spokesman, Michael Mann, said in an interview with Iran's Press TV. "We are prepared to do hard work to bridge those differences. It will take as long as it takes."
"We foreign ministers are not here because things are necessarily finished. There is a huge amount of agreement (but) the remaining gaps are important and we will be turning out attention to those over coming hours," British Foreign Minister William Hague told reporters Saturday.
The French Foreign Minister, Laurent Fabius, said that Paris would only back a "strong agreement".
The Iranian Foreign Minister Javad Zarif reiterated Saturday the Iranian position that Tehran must maintain the right to enrich uranium.

"We're discussing a three-part agreement. I can assure you that Iran's right to enrichment will be included in any deal," he said.
But he also struck a more upbeat note saying that "The arrival of foreign ministers of six countries in Geneva proves the governments' readiness to reach agreement with Tehran."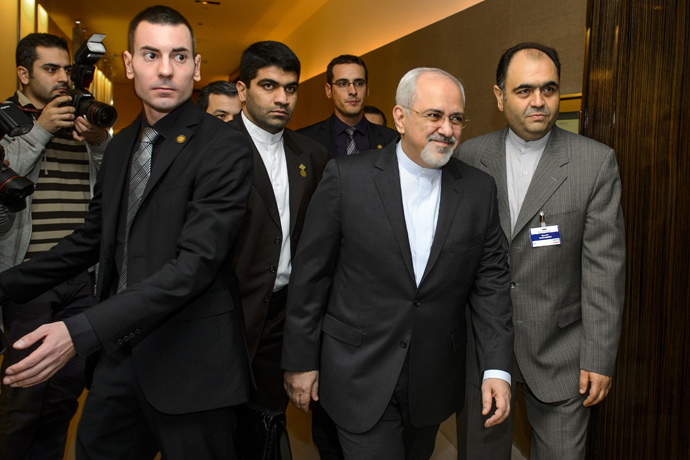 According to the Chinese Foreign Ministry, early on Saturday minister Wang Yi left Beijing for Geneva to attend talks on Iran's nuclear program.

This would be the third ministerial level P5+1 gathering with Iran since the breakthrough in diplomacy following the election of Iran's new president, Hassan Rouhani.

Demands by the P5+1 group for Iran to halt further enrichment activities were among the main sticking points in revived negotiations. The group also wants Iran to transfer part of its stockpile of 20 percent enriched uranium to a third country under IAEA custody. In return, the P5 +1 are offering a phased relief from sanctions on precious metals and petrochemicals that have been crippling Iran's economy for decades.
You can share this story on social media: