Americans flee to Canada for college education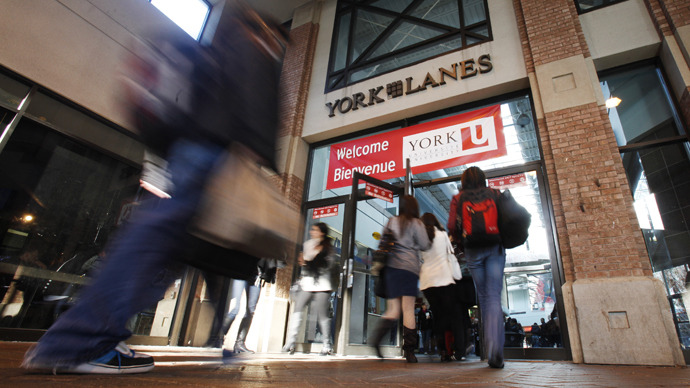 Americans are increasingly leaving the country to seek an education in Canada, where college tuition costs are significantly lower and the quality of education is high.
Over the past decade, the number of Americans who enrolled in Canadian colleges has risen by 50 percent. About 10,000 Americans are currently enrolled at universities in Canada, the Institute for College Access & Success reports.
"Undergraduate students that complete [school] in Canada have tremendous access to the best graduate programs right now in the world," Paul Davidson, president of the Association of Universities and Colleges of Canada, told AP. "So, if you're a student that wants to pursue graduate studies, a Canadian degree will serve you very well, indeed… They also are a passport to a good job."
And that passport comes at a much lower price: Undergraduates in Canada pay an average of about $5,000 in tuition fees during each undergraduate year, while undergraduates at a private university in the US pay an average of $32,000 each year, according to the Institute of Education Sciences.
Some American universities charge nearly $50,000 per semester, which often forces students to take out hefty loans to afford a basic undergraduate degree. 
Eric Andreasen, a college student from Maine, told NBC News that he chose to attend Montreal's McGill University because of the low tuition cost. A four-year undergraduate program at McGill cost him what it would have cost for just one year at George Washington University in the US capital.
"When the financial packages came in, it was a no-brainer for me," he said. McGill is ranked 18thon US News & World Report's ranking of the world's 400 best universities and some refer to the school as the "Harvard of the North".
"At McGill I believe I'm paying at most $20,000 with tuition and housing," Jamie Berk, a fourth-year college student from Pennsylvania, told USA TODAY. "Which is pretty good, it's about a little less than half of what a lot of Americans pay for private university."
Those who graduate from an American university carry an average of $26,000 debt, causing nine percent to default on their student loans within two years. And with low-skill jobs largely replacing high-paying ones, hundreds of thousands of college grads are finding themselves working minimum wage jobs post-graduation.  
"Money is definitely a factor," 20-year-old Leah Ott, a physiology major from Houston, told NBC News. She and her two sisters all attend universities in Canada.
And as Americans continue to discover the benefits of attaining a high-quality education in Canad, more students may choose to head north – especially since the cost of education continues to rise in the US.
About six percent of undergraduates at McGill are Americans, and at the current rate, that number could double within the next twenty years.