Canada wants to build a free bridge to the US, but Americans consider saying 'screw it'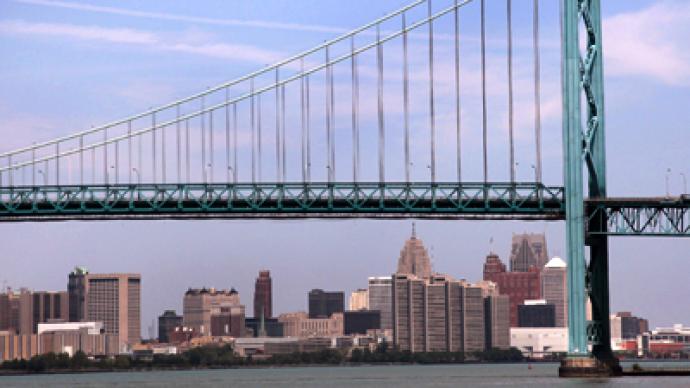 Canada insists on covering the cost of a $2.1 billion proposed bridge that would connect Windsor, Ontario with Detroit, Michigan, but the Canucks are being met with the kind of opposition that only a crotchety, stubborn, affluent old man can buy.
Enter Manuel "Matty" Moroun: an 85-year-old self-made billionaire that might have a very good reason to reject Canada's plans to put a brand-new bridge over the border between the US and their neighbors to the north. Officials from Canada are adamantly asking Americans to accept the proposed "New International Trade Crossing" and have been unrelenting with their promise to pay for the entire endeavor, putting a six-lane bridge just a few miles down river from the 83-year-old Ambassador Bridge without the US spending a dime."It will cost the state of Michigan zero dollars," Roy Norton, a Canadian consul general based in Detroit, told an audience in the United States on Tuesday. "We are so concerned about a lack of an alternative, we felt we had a choice: Do nothing or pay for it, and doing nothing wasn't acceptable."Even if Norton insists that there is only one easy answer for the questions of whether or not to begin building a new bridge, America is not convinced yet —and for that, Canada has Mr. Mouron to thank.Mouron's net worth was last estimated at $1.5 billion and a good chunk of that sum comes from perhaps his most prized possession: the Ambassador Bridge.The Mouron family currently own the only transport-truck bearing bridge in the region and are believed to rake in around $80 million each year thanks to tolls, duty free gas and shopping sales, the National Post reports. Today, Matty Mouron is the lone player in a major game of international monopoly and is making his case — an arguably weak one — among the people of Michigan."There's only one rational reason for opposing" Norton told a crowd in Bay City, MI this week. "If you own the Ambassador Bridge, you will cease to enjoy monopoly profits."Canada says that every cent required to realize a second bridge will be paid without penny-one from the United States. Regardless of if Norton's claims are right or wrong, though, a second span across the Detroit River stands to substantially trim from Mouron's take-away.When Norton touts the New International Trade Crossing during his regular trips to Detroit, his support is shared with other big names from both countries, including Canadian Prime Minister Stephen Harper, Michigan Gov. Rick Snyder and even the state's Department of Transportation, all of who insist that the construction cost won't ever come stateside. Mouron doesn't buy it, though."Mr. Moroun knows that yet he persists in saying 'there will be no work for Michiganders,'" Norton tells The Windsor Star. "There will be 10,000 jobs for Michiganders. We are paying the costs, but everyone wins with this project."Now in an attempt to ensure that Detroit remains a one-bridge town, Mouron has emptied roughly $10 million into a campaign that he hopes will persuade voters to toss a wrench in the plans. Mouron is asking Michiganders to vote yes on a ballot measure that citizens of the state will get to weigh-in on during the November election, which if approved could seriously snag Canada's proposal.If "Proposal 6" passes next month, any matters involving the construction of international crossings will be deferred to voters, not elected officials. If Election Day lends itself to a victory for Mouron, he then presumes he'll have enough time to nix any support for the span.The tactic is being dismissed as dirty by supporters of the bridge, but it's not being ignored. Mr. Norton, in fact, calls the efforts "greedy" and labeled the Mouron family as both "manipulative" and "cynical.""There are no arguments, literally no arguments that anybody in Michigan should embrace against the new bridge," Mr. Norton says to the National Post. "But, again, the owners of the Ambassador Bridge are prepared to say and do anything to mislead the public."Even if that isn't the case, attempts to discredit the free bridge are being heard loud and clear across the state. Mouron has since dispatched Ambassador Bridge Company President Dan Stamper to wage a figurative war on Canada, and during an appearance earlier this week he once against tried to shoot-down the Canadian promise that American's won't have to pay."Governor Snyder is trying to sell Michigan voters a government bridge we don't need and can't afford, and he obviously knows it. Otherwise, he wouldn't be so scared of letting the people have a vote on the new bridge," Stamper said Monday at a town hall luncheon. During the same event this week, Gov. Snyder made an appearance on his own to explain his endorsement."I wouldn't have supported this project if I didn't see tens of thousands of jobs coming," the governor said. "We should find a way to partner with Canada. We have a great opportunity to build a base here in the central part of the country for those people who only fly over from coast to coast."According to the most recent polls, however, the Mouron family attempt at eroding support for the bridge exists to such an effect that the entire operation is now up in the air. Currently the state is roughly split 50/50 in terms of Proposal 6, and a slew of television commercials being bought by Mouron are making things worse for the Canadian cause."There is no such thing as a free bridge," one ad insists. "Eventually, we the people are going to end up paying for it," a Vietnam veteran and retired police officer warns in another."There are some people, like the Moroun family, which has been spreading distortions and lies about the New International Trade Crossing," Norton said during Monday's event, "But I'm here (to say) you cannot close down the government of Canada."As part of their latest smear campaign, Norton says the Morouns claim that Chinese materials will be used to build the bridge."There will be no Chinese steel used to build the bridge," Norton finds himself pleading with Michiganders. "We will use no foreign workers; Canadian workers on the Canadian side and US workers on the US side."Meanwhile, Mouron's pals have proposed something of their own. "It's time for politicians to stop standing in the way of progress by protecting this boondoggle," Stamper said during Monday's event. "When they do, the Ambassador Bridge is ready and willing to invest in a state-of-the-art border crossing at no cost to taxpayers on either side of the border."If Proposal 6 is shot down, Canada is expected to soon begin work on building the project, with in all is estimated to cost as much as $4 billion when connected infrastructure and facilities are accounted for.
You can share this story on social media: