'American Jihadist' who fought in Syria, Eric Harroun, dies suddenly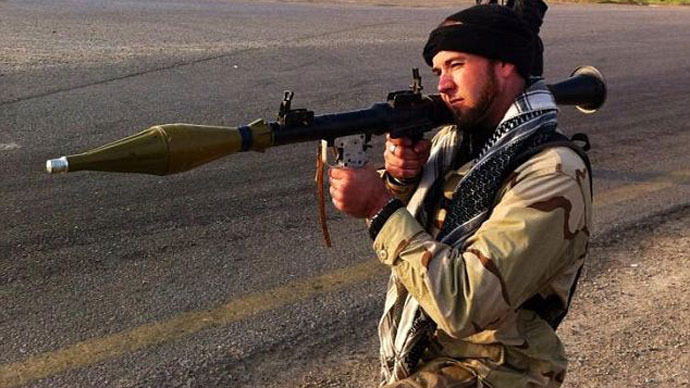 A former US Army soldier who spent months fighting with the Free Syrian Army before being arrested and charged with terrorism by the FBI has died, his family announced Wednesday.
Eric Harroun, 31, was declared dead at his father's home in Phoenix, Arizona. His cause of death was not immediately known, with an autopsy expected to occur within the coming days. At the time of his death Harroun, who served at army bases in Missouri and Kansas before traveling to the Middle East, was attempting to navigate through his difficult legal situation and return to Syria to fight in that country's ongoing civil war.
"With deep sorrow, we regret to inform you of our beloved Eric Harroun's death," his family wrote on one of the many Facebook pages dedicated to Harroun. "He will be missed by his family, friends, and many people around the world his life has touched."
Harroun lived in the Phoenix area and served in the US Army from 2000 to 2003, although military records obtained by the New York Times indicate the young man was never deployed overseas. He made his way to Syria years later and joined the ranks of Al-Nusra, an Al-Qaeda affiliated rebel group that is universally recognized as the fiercest of the opposition groups aiming to depose Syrian President Bashar Assad.
He fought for an estimated two months, posting pictures and video of himself brandishing weapons alongside other fighters online during that time and earning the nickname "American Jihadist." Harroun, perhaps aware of his growing reputation, voluntarily met with members of the US Consulate in Istanbul, Turkey with the goal of earning American support for the Syrian opposition.
Instead of providing assistance for their mutual enemy, though, Harroun was arrested by the FBI and charged with providing material support to a terrorist group. Harroun could have spent the rest of his life in prison if found guilty but agreed to plead guilty to a lesser charge in exchange for his freedom.
The government's case centered on the allegation that Harroun alongside Al-Qaeda operatives. However he maintained that he was originally taken in as a prisoner and was not treated as an equal until proving his worth in battle. Members of the group told the Times they approached Harroun about acting as an English spokesman for the group, an offer he declined.
"I fought with many different battalions, but I was with the Free Syrian Army," he told ABC 15 in Arizona upon returning home. The US provides material support to the Free Syrian Army and has not designated that faction a terrorist group, unlike Al-Nusra.
Geremy C. Kamens, who represented Harroun as a member of the federal public defender's office, told the Times there was no evidence his client held "fundamentalist or jihadist views" and that the case was entirely "unique in American law."
"Never, to my knowledge, has the US government charged a US citizen for fighintg with a group aligned with US interests," Kamens said last year.
After spending six months in solitary confinement Harroun was released on September 19, 2013. He was sentenced to time served and three years' probation, but told reporters affiliate his relief was bittersweet.
"I never thought I would be set free. Every time my cell door would pop I thought this could be the day I walk. I'm just thankful to be out," he said last year. "I feel betrayed by my government, by my country. I didn't do anything and that's why I'm out right now."
Harroun also said he planned to enroll in school during his probation. He also planned to request a presidential pardon for his crimes, saying he would die "in a New York Minute" for the US.
You can share this story on social media: