Rebel leader supported by the West admits he fights alongside Al-Qaeda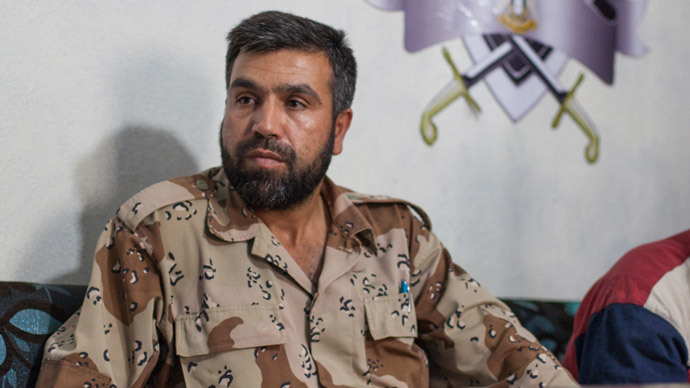 Western-backed rebel leader, Jamal Maarouf, has admitted that the fighting against Al-Qaeda was "not our problem" and that his group is battling alongside the terrorist organization.
Maarouf told The Independent that his group, the Syrian Revolutionary Front (SRF), carries out joint operations with Jabhat Al-Nusra – the official Al-Qaeda branch in Syria.
"It's clear that I'm not fighting against Al-Qaeda. This is a problem outside of Syria's border, so it's not our problem. I don't have a problem with anyone who fights against the regime inside Syria," Maarouf said to the media outlet.
The SRF leader even provided examples of the ways his group was helping Al-Qaeda.
"If the people who support us tell us to send weapons to another group, we send them. They asked us a month ago to send weapons to Yabroud so we sent a lot of weapons there. When they ask us to do this, we do it."
Maarouf's brigades were previously viewed as moderate among rebel forces that are more and more dominated by radical militants. Plus, the SRF was allegedly receiving significant aid from the US and other Western allies to battle the extremist forces.
However, Maarouf denies getting strong support from the US, saying there was a one-time $250,000 payment for salaries and benefits of a shared operations room in Jordan to fight the Southern Front.
"We have received lots of promises from the US, but so far nothing more," he stated.
Maarouf's advisor confirms this, insisting that the SRF relies on funding from Saudi Arabia.
The statement of the rebel leader comes a few days after Russia condemned "the extremist actions" in Syria, following the attack on the Armenian Christian town of Kessab.
"The UN Security Council should discuss the situation in Kessab and give it a principled evaluation," the ministry said. "We believe that the Syrian government and the opposition should join efforts to eradicate terrorism in Syria."
Russia's Foreign Ministry also criticized the UN human Right Council's resolution on the situation in Syria as one-sided.
A few days earlier, President Obama was pondering sending anti-aircraft weapons to the Syrian rebel forces, AP reported.
Al-Qaeda-affiliated groups are known for their atrocities in Syria. Over 94 Alawite women and children were kidnapped by Sunni rebels from villages in the coastal province of Latakia. A week earlier, 13 Greek Orthodox nuns were freed in exchange for the release of 138 women from government prisons.
The violence in Syria has already killed over 140,000 people, forced millions to flee their homes and triggered a regional humanitarian crisis dubbed the worst in recent decades.
You can share this story on social media: