America's big bank slumlords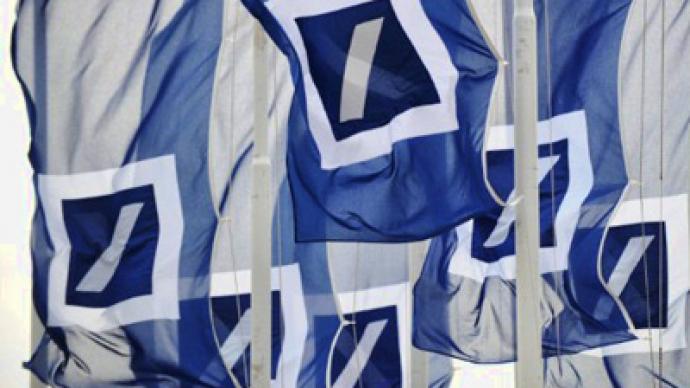 Are some of the biggest banks in the world now some of the worst slumlords in America?
A flood of recent complaints have surrounded the German banking giant Deutsche Bank. It has taken over properties across America, and in many cases has left anxious renters living in filth and insecurity, not knowing if they'll soon be kicked to the curb.Roach infestations, cracks in the walls, mold growth and mounds of trash are just some of the deplorable conditions, low income families in Los Angeles are dealing with."At night, I have bugs crawling on my arms and on my face," said Rosa Garcia, a downtown Los Angeles resident. "The mice make noise at night and make me lose a lot of sleep."Garcia is angry over the slum conditions that she and other renters have to endure as careless property owners allow the city's poorest neighborhoods to deteriorate. As a result of the ongoing foreclosure crises, empty houses have become a sanctuary for squatters and drug dealers. Foreclosed apartment buildings have fallen into disrepair as the owners ignore their tenant's needs.Many of those owners are the world's biggest banks."People come here in tears," said Carlos Zaragoza, a tenants' rights organizer. "They say it's a nightmare because they can't sleep.It's affecting their work." From LA to Milwaukee to Cleveland, cities across America are having a tough time getting banks to maintain foreclosed properties.One of the biggest culprits may be Deutsche Bank.A recent congressional report on the financial crisis put Germany's leading bank among the top 4 banks contributing to America's "mortgage mess." Deutsche Bankhas foreclosed on thousands of properties in Los Angeles and now the city is suing, demanding the bank step up and be a landlord. We visited several of the Deutsche foreclosure properties but tenants were fearful of talking on camera or showing us their apartments. They know, their days in the home are numbered, and worry they'll be kicked out even sooner if they complain.It is a situation that would likely not be tolerated back home in Germany. This is not Germany however and the bank has passed on the blame, claiming they are only a trustee on the mortgage.An excuse that does not sit well in communities seeing their American dream shattered; specially after Deutsche Bank reported $3 billion in profits, for just the first three months of this year. "Now you have these big banks that are selling off securities to God knows where and nobody cares about the people on the other end," said Ryan Bell, community organizer and Pastor of Hollywood Adventist Church.Bell sees the collapse of the city's neighborhoods on a daily basis.He believes the foreclosure crisis and the inability to keep banks accountable, amounts to a betrayal of the average working American."It's the height of inhumanity, I think," Bell remarked.Rosa Garcia agrees and is rallying her neighbors to speak out. She is tired of having sleepless nights and bug bites, while politicians and bankers abroad are enjoying the good life."They're so comfortable with their nice homes with swimming pools and I'm getting big by bed bugs," said Garcia.Under pressure from US cities, Deutsche Bank has begun to repair some properties but without much of the renown German efficiency.But with so many homes still at risk of foreclosure, it may be too little too slowly too late.George Hemminger of Survive and Thrive TV said these are signs of a growing divide in America of the 'haves vs. have nots'."It's economic collapse," he remarked. "We thought we were in a recovery, what we're actually entering is the second great depression."Hemminger said the big banks are being completely irresponsible. The foreign banks are not serving the American people and are taking advantage of a faulty system. "Entire classes of banks are becoming slumlords," he said. "The system just isn't working.""We are seeing a decade of losses in real estate," Hemminger added, noting that past investment in real estate has backfired and any growth in previous years a "mirage". As more American continues to make payments in the down economy, more foreclosures are expected. As this trend continues the situation can easily get worse as more and more properties are turned over to bank ownership.
"We're looking at the most top heavy distribution of wealth and income since before the 1920s," said Professor Timothy A. Canova from Chapman University, who specializes in international economic law.He explained that there is a great divide between the upper and lower classes in American – and the divide is growing.Joblessness, foreclosures and other economic conditions are increasing the divide. The recession is hurting the middle and lower classes and the government has not done enough to help – the government has however helped the more wealthy Americans remain wealthy. "The federal government has come to the rescue of the banks," Canova said, but has done little to create jobs or help the American people. All of the focus is on helping big business. "You look at all the stimulus for Main Street combined and it's really just a small fraction of the kind of support hat Wall Street has gotten," he remarked. "Most Americans are feeling this pinch."
You can share this story on social media: