Albuquerque cops under investigation after dozens of police shootings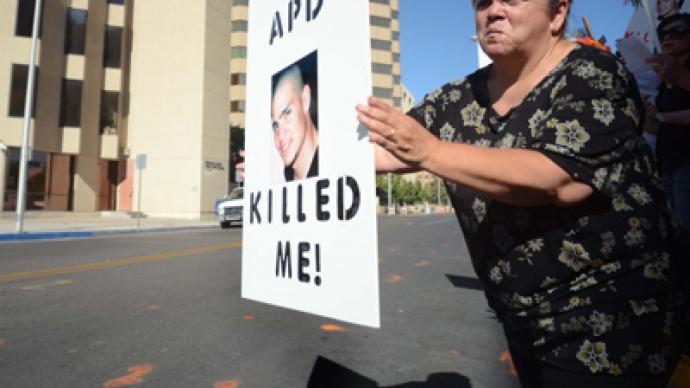 The Albuquerque Police Department will be the subject of a federal investigation as the US Department of Justice tries to determine why law enforcement officers have been involved in 17 fatal shootings in the last two years.
The Justice Department confirmed on Tuesday that an official probe in the Albuquerque, New Mexico PD will soon begin after the results of a preliminary inquiry to get to the bottom of more than two dozen police shootings since 2010 suggested a more thorough investigation is warranted."We have concluded that a full Civil Rights investigation is warranted to determine whether APD engages in a pattern of practices of violations of the Constitution or federal law," Thomas E. Perez, assistant attorney general for the Justice Department's Civil Rights Division, told reporters this week. "In particular the investigation will focus on use of force by APD, including but not limited to deadly force.""We will talk to department leadership and rank-and-file officers," said Perez. "We will also actively engage with the community, a critical part of the process of determining whether systemic violations exist.""We will peel the onion to its core, and we will leave no stone unturned," he said.Police Chief Ray Schultz tells the Albuquerque Journal that "self-induced" changes adopted by the agency should be enough to avoid having a federal investigation, but a creeping death toll from cop-involved shoot-outs has yielded many residents of the New Mexico city to seek answers. Now with investigators opening a case regardless of his opinion, law enforcement officers will be placed under the magnifying glass of the FBI."Our officers are of the highest quality, and receive excellent training. However, we know that we are not always perfect and that there is always room for improvement," Schultz says in a statement this week. "The Albuquerque Police Department has demonstrated our commitment to the city and to our citizens. We look forward to working with the [Justice Department] investigative team and its panel of experts and identifying any additional steps that we can take to improve our department and our community."Richard Berry, mayor of Albuquerque, tells the Associated Press that initial meetings so far "have been positive" and are "producing meaningful dialogue." "This independent review is critical to ensuring and preserving trust between a police department and the community it serves," adds Perez, the Los Angeles Times reports. Meanwhile, Chief Schultz says he is serious about trying to dig his department out from a negative light cast by a scandalous serious of deadly shootings."It is a challenge to bring the department to the highest level possible and to restore that community trust that I want to have back," Schultz says.
You can share this story on social media: