US Navy gets their first squadron of drones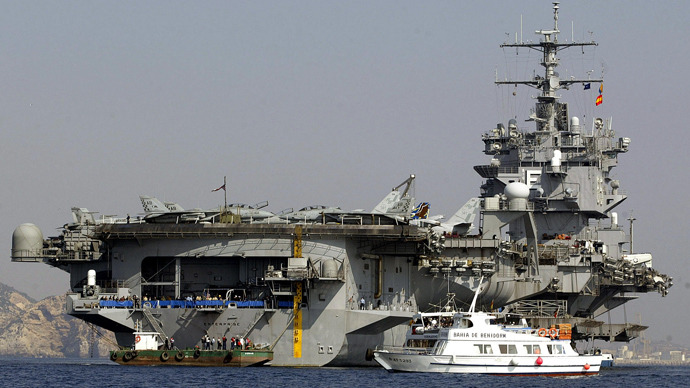 The United States Navy has officially entered the drone business.
On Thursday the Navy inaugurated the Helicopter Maritime Strike Squadron 35, or the "Magicians," a fleet made up of both manned and unmanned vehicles that will accompany US warships into battle across the world. Included in that fleet are eight traditionally piloted helicopters and a yet to be determined number of Fire Scout MQ-8 B drones, each capable of being operated at a distance of 110 miles away and maintaining flight for half-a-day straight.
Until this week, the Pentagon has only allocated unmanned aerial vehicles, or drones, to the US Air Force. According to the AP, most Navy drones in use until this point have been operated by contractors overseen by military personnel.
The Navy's brand new fleet will be unveiled at the Naval Air Station North Island base on Coronado, near San Diego, California on Thursday, but the Associated Press quotes Lt. Aaron Kakiel as saying that the "Magicians" will only start appearing on one of the force's new littoral combat ships in about a year.
One of those so-called LCS boats, the USS Freedom, was just two months ago deployed to Southeast Asia where it will likely spend the remainder of 2013 off the coast of Singapore. According to a press release issued by the Navy, "lessons learned from logistics and maintenance support during the transit and port visits will inform follow-on rotational deployments as well as the overall LCS program."
The addition of drones to the Navy's arsenal comes 100 years after that division of the US military first used air detachment vehicles, but also comes amid escalating public outcry over the use of unmanned aircraft. Despite being tied to upwards of thousands of civilian casualties, the Pentagon continues to stand by the use of drones in oversea antiterrorism operations, and just last week Air Force Major General H.D. Polumbo confirmed that US drones will remain in Afghanistan even after the last American troops are expected to leave in 2014.
Meanwhile, the UK used an armed drone for the first time on Thursday. Just days earlier roughly 400 anti-war demonstrators marched in Lincolnshire to protest the opening of the British Royal Air Force's drone program.
You can share this story on social media: