Anti-drone protest in UK over domestic opening of Reaper control center (VIDEO)
Anti-war groups have held a protest at a UK airbase from which the country has begun controlling its fleet of assassination drones in Afghanistan. Previously, the remote pilots were deployed only in the US.
Four anti-war groups – including CND, the Drone Campaign Network, Stop the War and War on Want – are staging a nonviolent protest on Saturday over drone use by the Waddington base in Lincolnshire.
About four hundred peace campaigners marched from the city of Lincoln to RAF Waddington.

The British Royal Air Force (RAF) has opened drone control stations at the base located south of Lincoln this week to work in tandem with those already in place at Creech Air Force Base in Nevada. In 2010, the Ministry of Defence decided it needs the capability to remotely operate its armed drones from its own soil following a strategic security review.
Waddington is home to the new 13 squadron created for this purpose in October last year. The unit consists of about 100 personnel, including pilots, systems operators and engineers.
Together with the Nevada unit, the squadron will be remotely controlling UK's drones, including the armed Reaper drones, which can drop laser-guided bombs and launch Hellfire missiles.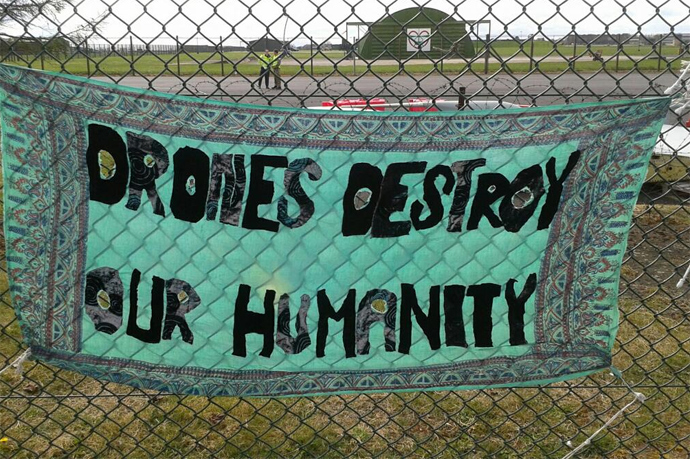 "We aren't flying any more operations than we were before, but with the time differences between the US, Afghanistan and the UK, it is now possible for pilots at Waddington to work in relay with the those in the US," a source told the Guardian while explaining the rationale behind the new unit.
The UK deploys a relatively small, but still sizable, drone fleet in Afghanistan, mostly consisting of surveillance aircraft. There are five British Reapers deployed in the region, and the MoD plans to double that number this year.
Protesters expressed fears over the UK's development of the drone program, which is marred by its association with its US counterpart. Washington uses CIA-operated drones in the targeted killings of suspected militants, which critics say results in an unacceptable number of civilian deaths and has shaky legal and moral grounds.
"Drones, controlled far away from conflict zones, ease politicians' decisions to launch military strikes and order extra-judicial assassinations, without democratic oversight or accountability to the public," Rafeef Ziadah, War on Want senior campaign manager said. "Now is the time to ban killer drones – before it is too late."
The British military insist that their use of drones saves soldiers' and civilians' lives, and is no different from that of piloted aircraft.
"UK Reaper aircraft are piloted by highly trained professional military pilots who adhere strictly to the same laws of armed conflict and are bound by the same clearly defined rules of engagement which apply to traditionally manned RAF aircraft," an MoD spokesman said.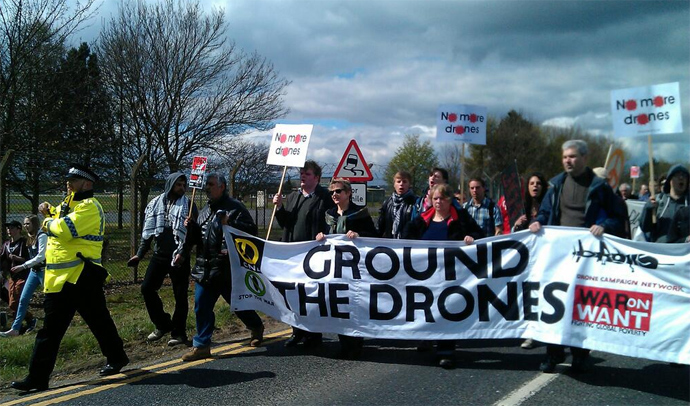 You can share this story on social media: