​34 nuclear missile launch officers implicated in cheating scandal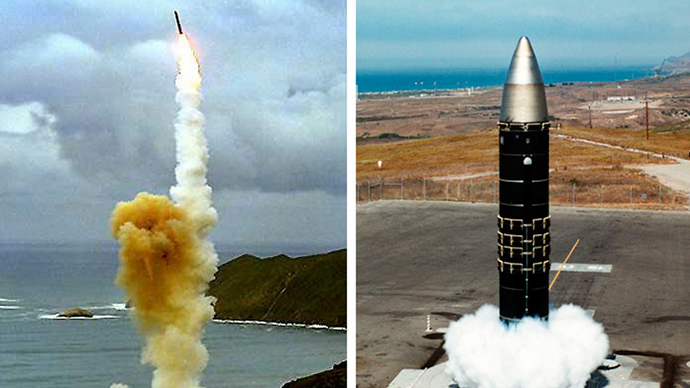 The Air Force says 34 nuclear missile launch officers have now been implicated in a cheating scandal and have been stripped of their security clearance, the AP reports.
The allegations come after some of the officers texted each other the answers to a monthly test gauging their understanding of how nuclear missiles are operated. Some may have known about the cheating, but failed to report it.
"There was cheating that took place with respect to this particular test. Some officers did it. Others apparently knew about it, and it appears that they did nothing, or at least not enough, to stop it or to report it," Air Force Secretary Deborah Lee James said at a news conference.
The cheating was found during an investigation into drug use involving 11 Air Force officers across six bases in the US and England. Of the three missile launch officers associated with the drug scandal, two serve at the Malmstrom Air Force Base in Montana and one at the F.E. Warren Air Force Base in Wyoming. The two officers at Malmstrom are also being investigated in the cheating scandal.
"This is absolutely unacceptable behavior and it is completely contrary to our core values in the Air Force and as everybody here knows the Number One core value for us is integrity," Air Force Secretary Deborah Lee James told reporters.
Approximately 190 officers oversee preparedness of US nuclear weapons systems, meaning the cheating scandal touches almost 20 percent of that force.
All officers in the command will be re-tested by the end of Thursday, the Air Force said.
Both officers at the Montana facility - where the Pentagon's Minuteman 3 intercontinental ballistic missiles are controlled from - are suspected of possessing narcotics, representatives for the military admitted to reporters last Thursday. The Air Force Office of Special Investigations has opened a probe into the allegations, and both unnamed officers have in the interim been relieved of their access to classified information.
News of the drug investigation broke on Thursday moments before Defense Secretary Chuck Hagel was set to deliver what the Associated Press considered a "carefully planned pep talk" to missile officers at one of the two other facilities in the country that hosts ICBM forces amid reports of low morale within their ranks.
Speaking directly to the troops at the F.E. Warren Air Force Base, where one of the officers in caught up in the drug scandal serves, Hagel told the missilers, "We depend on your professionalism."
"You are doing something of great importance to the world," the AP quoted Hagel as saying. "You have chosen a profession where there is no room for error — none."
You can share this story on social media: