US outsources African spy missions to private contractors
Published time: 15 Jun, 2012 21:19
Edited time: 16 Jun, 2012 01:19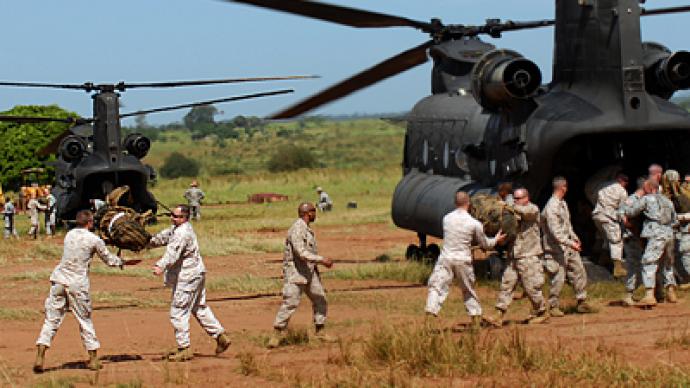 The US troops handling top-secret missions in Africa aren't the only ones working for Uncle Sam. Despite the Pentagon pushing for more soldiers overseas, the government is outsourcing some of their own intel-gathering programs to private contractors.
We already know that Americans are apt to go abroad when it comes to items that are more affordable overseas. Is even managing the country's intelligence too demanding to be divvied up within the ranks of the FBI, CIA or another US entity though? A report published this week by the Washington Post confirms just that. Joining the hundreds of US troops stationed across the continent of Africa — where the Defense Department is preparing to send an additional 3,000 servicemen in 2013 — are an underground intelligence operation staffed by private sector employees being paid by the Pentagon.
Along with at least 100 soldiers dispatched to central Africa last year to hunt disputed warlord Joseph Kony, the US manages a multi-pronged platoon of all types of servicemen to engage in largely secretive military missions. Instead of staking out foreign adversaries on their own, the US government is grabbing private contractors to fulfill the country's own surveillance and spy missions.
Since at least 2009, the US has relied on a little-known project under the US Africa Command called Tusker Sands to scoop up intel overseas. By recruiting intelligence experts and military vets, the government has gone outside of the Pentagon to pull bodies staffed by private contractors for its spying needs.
"Deniability," the Bookings Institution's Peter W. Singer says, is the main motivation for taking that route, but he adds that "it rarely turns out that way."
Although the government may go to the private sector to avoid a scandal if a military-mastered spy mission goes wrong, Singer says problems with the program usually end with either one or two outcomes.
"When things go bad, you can have two scenarios," Singer tells the Post. "Either the contractors are left holding the bag, complaining about abandonment, or else some kind of abuse happens and they're not held accountable because of a mix of unclear legal accountability and a lack of political will to do something about it."
On the record, a representative for the US Africa Command tells the Post that, if one of their hires was apprehended by foreign forces, enemy or other, they "would be provided the same assistance that any U.S. citizen would be provided by the U.S. Government should they be in danger." Bringing onboard Defense Department or Central Intelligence Agency personnel, however, would presumably mean a more rapid response, and one that might involve a good chunk of the country's military.
Under Tusker Sands, the US hires private teams to take the helm of spy mission with little more than basic instructions. They often scour for applicants with military training and require that contractors are already equipped with their own supplies.
On GlobalSecurity.org, the project is explained as "a manned airborne intelligence, surveillance and reconnaissance (ISR) platform, along with an associated intelligence fusion cell designed to address emerging theater collection requirements and command strategy to build partner nation capacity." In lay terms, though, it's just another endeavor that lets the US engage unlawfully overseas without the blame being pointed at Uncle Sam.